'Below Deck Sailing Yacht': Jenna MacGillivray Describes Her Early Experiences in Yachting
Chief stew Jenna MacGillivray from Below Deck Sailing Yacht recently shared her early experiences in yachting and how she started in the industry.
MacGillivray revealed in her blog that she initially moved to Ireland after living in Canada. She traveled through the country and ended up working at a restaurant. She made friends and traveled to Germany and throughout Europe. When she got to Spain she met "Doc" who worked on a yacht.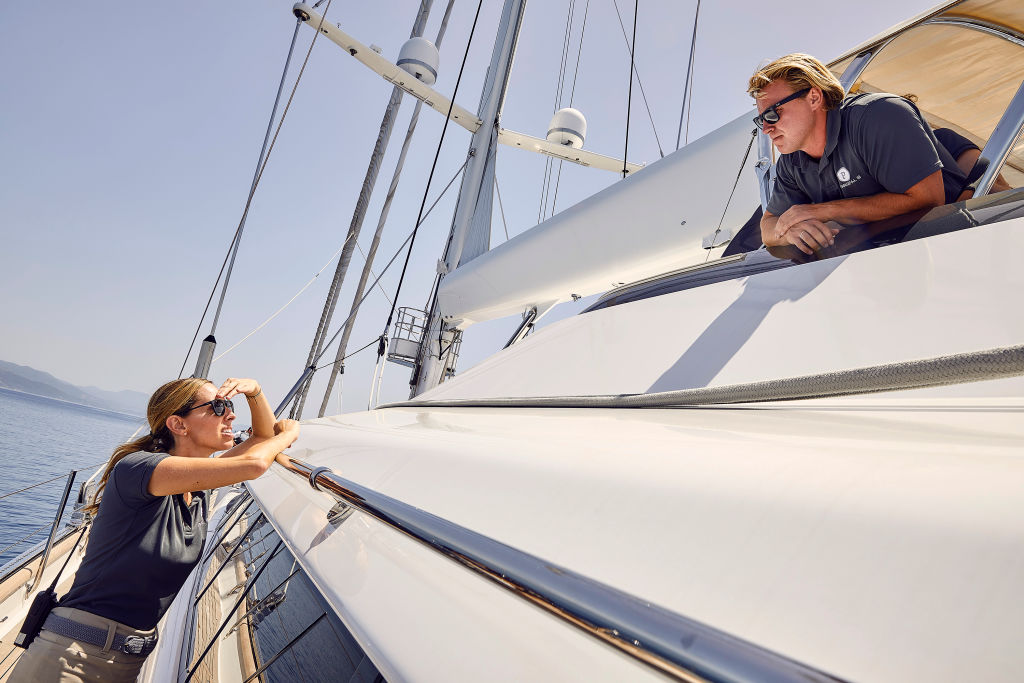 She wrote, "He told us he worked on a yacht, where he was paid extremely well, didn't need a visa, and got to travel the world. Holy f**k, this is the job for me. I was so excited at the thought of this because visas and different languages were the biggest barriers to working in foreign countries. Doc told us that we could walk around the marina, press the boat buzzer on the gangway, and hope that someone would give us a job."
She shares why doing prerequisite work is important
MacGillivray wrote that she started by working on the dock. "My resume didn't have my picture, and I knew nothing about the STCW course or ENG1 that were requirements of working on a yacht. On one particular day, I spoke to a woman who worked on a 100 footer with her husband. She pulled me onboard and tore apart my resume." Adding, "She told me that even though I didn't have my STCW, I should list that I was planning to attend a course at a specific location and date."
The advice helped. Adding, "Nowadays I'd recommend doing all the prerequisites beforehand because competition is fierce and if you have no experience, you better have the necessary training."
Also, yachties with restaurant experience should highlight it on their resume. MacGillivray says this experience shows that the prospective crew member can multi-task and still banter with everyone. "This is my prerequisite for hiring someone ;). If you can't banter, you're not gonna make it in my world."
Her first chief stew was strict and didn't coddle her
MacGillivray worked on her first yacht for two years and loved the crew. She wrote that they are still friends today and a few met up in Europe. "It was like a family and we all were just so happy to be there. I learned the value of hard work on that boat."
"When I joined we worked three months straight without a day off. I worked with an amazing Chief Steward who didn't coddle me, but taught me exactly what I needed to know to keep progressing in the industry because that's what I wanted.
"He was strict, like I am, and for me I liked that because yachting is hard work. There's no way around that. There's ZERO time for attitudes, complaining, questioning the hierarchy. You are there to learn and absorb what you can, and excel at your job and move up if that's what you want. The people that don't want to be there, are easy to spot and they don't last. All of this being said, we laughed every day. We worked extremely hard and we also played hard. I loved every minute of it and was so thankful for my start."
Below Deck Sailing Yacht airs on Monday at 9/8c on Bravo.
Source: Read Full Article