'Darcey & Stacey': Darcey Silva Reveals That '90 Day Fiancé' Star Tom Brooks Did Actually Propose to Her
Darcey Silva and Tom Brooks' relationship was one of the most explosive partnerships on seasons 3 and 4 of 90 Day Fiance: Before the 90 Days. Things ultimately ended because Brooks failed to be the man that Darcey needed and wasn't quite as keen on settling down as she was. Now that Darcey has moved on and has a new show, Darcey & Stacey, she has revealed that Brooks actually did pop the question.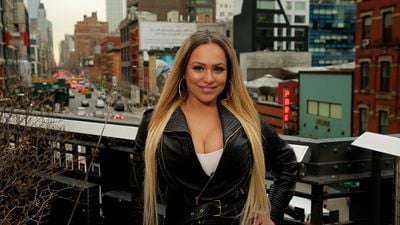 Tom's proposal
Brooks and Darcey met online and had been talking on-and-off for years before she finally went to the U.K. to meet up with him. Darcey thought that her trip would end in a proposal but apparently Brooks had a very different idea of where their relationship was headed. Things came to a head when Darcey and Tom met up with Darcey's sister Stacey Silva and her fiancé, Florian in Albania. Darcey thought she would get a proposal on the trip but actually ended up getting in a big argument with Stacey, which annoyed Brooks. Viewers saw the night ending with Darcey confessing that she didn't think that Brooks loved her.
But apparently, that's not how the night really ended. According to Darcey and Stacey, Brooks actually proposed to Darcey later that night back at the hotel.
"I never gave him a response because I didn't trust him," Darcey recently told Entertainment Tonight. "He'd been drinking too. … I don't know, we were all like, 'What?' I didn't take him seriously. I was kinda like, was he just trying to say this to make himself feel better about what just happened earlier that night? So, I was just like, if he's gonna do it, at least get on a knee, but he was sitting in a chair with, you know, some champagne or something in his hand.
"You know what, I know what I'm worth and what I deserve, so it was a blessing in disguise that I was like, 'Uh, nope,'" she continued. "I'm not desperate Darcey here, so… don't make me feel like one. I didn't believe what he was saying. It was just one of his spiels, is what it felt like."
How did Darcey and Tom's relationship end?
After that trip, Darcey said that Brooks' demeanor toward her changed.
"It shifted, I was like, 'Wow,' you know?" she said. "Sometimes he was more lovable off camera. On camera, it kind of felt like he had more of a facade. I'm thinking, why is he acting like this? I felt, you know, the other one [Jesse Meester] was like that too a little bit, but I was always real no matter what, so that kind of confused me and that hurt, you know? We knew each other for a long time and having finally met in person, it was a journey we were all going on together, but I was glad that Stacey and Florian were there for me. … It was always like you couldn't understand what [Tom's] demeanor was. And that's why I got emotional."
Things ultimately ended in season 4 of the show after Darcey found out that Brooks had been dating another woman. She has since moved on and is now dating Georgi Rusev.
Source: Read Full Article