DC FanDome 2021 Reveals Behind-The-Scenes Look at 'Superman & Lois' Season 2
While we still don't have a release date for The CW's Superman & Lois Season 2, DC FanDome 2021 has provided fans with a behind-the-scenes look at the set in the upcoming season. Two castmates showed DC FanDome viewers around the Kent house and gave some insight into what the cast is up to when the cameras aren't rolling.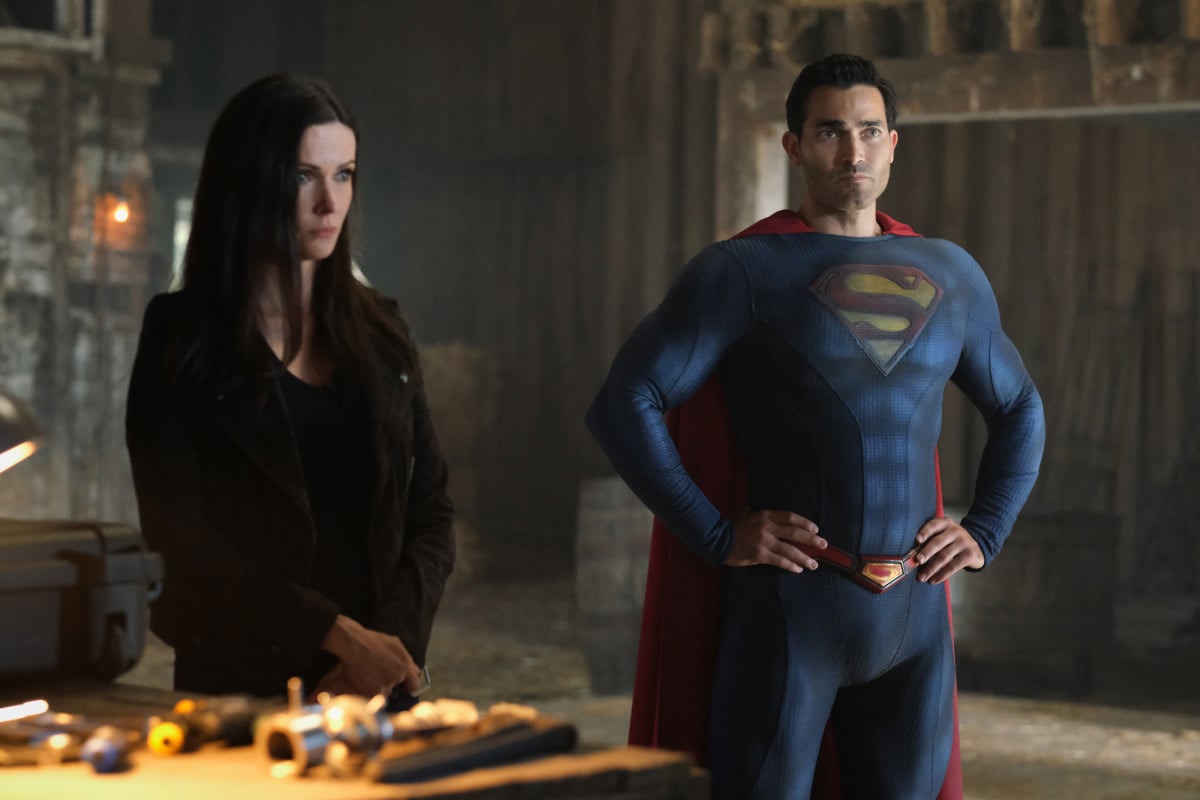 Bitsie Tulloch and Alex Garfin give a behind-the-scenes look at the Kent house
Unfortunately, DC FanDome 2021 did not treat fans to new footage from Superman & Lois Season 2. However, Bitsie Tulloch and Alex Garfin guided fans through a behind-the-scenes look at the Kent house, which you can view below.
In the video, Tulloch reveals that she and co-star Tyler Hoechlin have their own drawers in the kitchen where they keep snacks and other personal things. Garfin also tells us that he will play the piano for the crew when the camera isn't working.
And, apparently, the upstairs in the Kent house in Superman & Lois Season 2 leads to the great beyond. Who knew?
What happened in 'Superman & Lois' Season 1?
In Superman & Lois Season 1, Clark, Lois, and their twin sons, Jonathan and Jordan, moved from Metropolis to Smallville after Clark's mother, Martha, died in the first season. There, Clark reunited with Lana Lang, her husband, Kyle Cushing, and their daughter, Sarah.
The apparent villain of the season, dubbed The Stranger, turned out to be John Henry Irons from an alternate universe. Irons was married to Lois Lane in his universe, but evil Superman killed her after she told the world about his one weakness. Irons accidentally came to Smallville on Earth-Prime, but he decided to stay and defeat their version of Superman. He later realized that Superman is Earth's protector, and he teamed up with him to take down the real villain of the season, Morgan Edge.
Throughout the season, Lois tries to expose Edge for exploiting the people of Smallville. Superman & Lois later revealed that Edge is Clark's half-brother, Tal-Rho. His goal was to turn Earth into a new Krypton by supplanting human beings with Kryptonian consciousness. He also kidnapped Jordan and turned him into his father, Zeta-Rho.
In the finale, Lois successfully expelled Zeta-Rho from her son's mind. Clark and Irons then fought Tal-Rho. They defeated him and brought Edge back. In the end, Superman told the world the truth about Edge. Lois bought half of the Gazette. General Lane stepped down from the DOD. And Irons' daughter, Natalie, crash-landed on the Kent farm. And now, onto Superman & Lois Season 2.
Everything we know about 'Superman & Lois' Season 2
The CW recently announced that Superman & Lois Season 2 would introduce a new character, Lt. Mitch Anderson, the "new sheriff in town" at the Department of Defense. Anderson is played by Ian Bohen, who will be reunited with his Teen Wolf co-star, Tyler Hoechlin.
The main cast includes Hoechlin as Clark Kent/Superman, Elizabeth Tulloch as Lois Lane, Jordan Elsass as Jonathan Kent, Alexander Garfin as Jordan Kent, Erik Valdez as Kyle Cushing, Inde Navarrette as Sarah Cushing, Wolé Parks as The Stranger/John Henry Irons, Emmanuelle Chriqui as Lana Lang Cushing, and Sofia Hasmik as Chrissy Beppo.
Superman & Lois Season 2 will premiere on The CW in early 2022. Fans can currently stream season 1 on HBO Max.
Source: Read Full Article