'DC's Stargirl' Lead Brec Bassinger Is Looking Forward to More JSA Action in Season 2
DC's Stargirl has just been renewed for a second season on the CW. The series, which features various generations of comic book heroes and villains, follows highschool teen Courtney Whitmore aka Stargirl. Season 2 is in the works, and lead actor Brec Bassinger just revealed that she's looking forward to seeing more Justice Society of America action next season.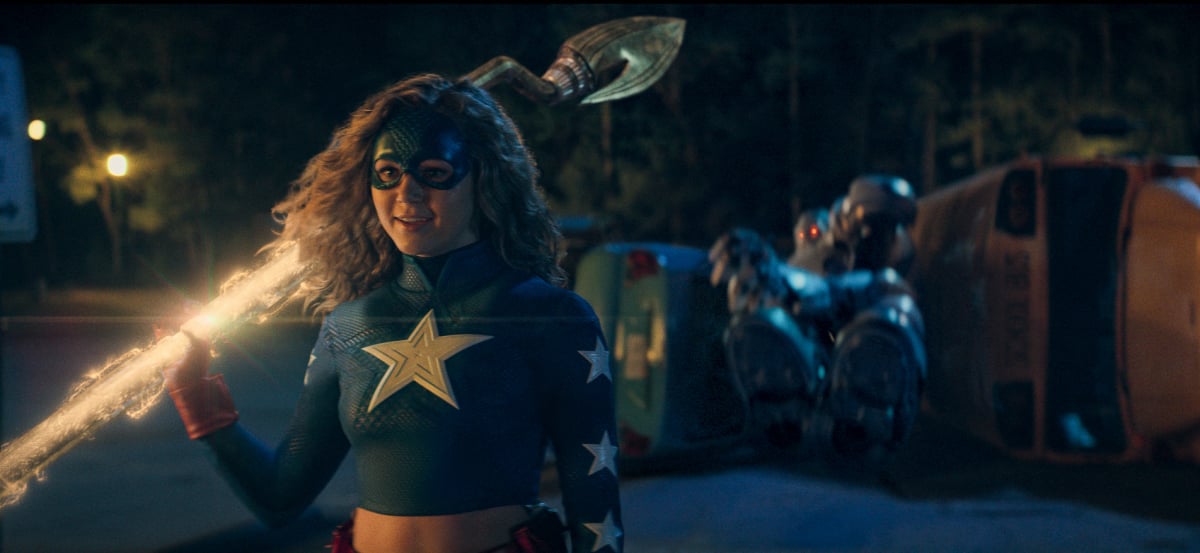 'DC's Stargirl' is based on a comic book by director Geoff Johns
Geoff Johns is known for writing and producing projects like Aquaman, Justice League, and the upcoming film, Wonder Woman 1984. His TV credits include major series like The Flash, Smallville, and Arrow. And he's now serving as the showrunner and creator of DC's Stargirl, which is loosely based on the Stars and S.T.R.I.P.E. comic he wrote for DC in 1999.
The series is centered on high school teen Courtney Whitmore, who adopts the persona of Stargirl after inheriting a cosmic staff through her new stepdad and eventual sidekick Pat Dugan, aka S.T.R.I.P.E. (Luke Wilson).
The series features a new generation of the Justice Society of America
The Justice Society of America, or the JSA, is a superhero organization that originally appeared in the 1940 DC comic book series, All-Star Comics. The very first JSA team consisted of eight heroes — the Flash, Green Lantern, Hour-Man, Spectre, Doctor Fate, Atom, Hawkman, and Sandman.
DC's Stargirl introduces viewers to a new generation of JSA members. Along with Courtney's Stargirl, the new JSA features Yolanda Montez as Wildcat (Yvette Monreal), Beth Chapel as Doctor Mid-Nite (Anjelika Washington), and Rick Tyler as Hourman (Cameron Gellman).
'DC's Stargirl' lead Brec Bassinger says she's excited to see more JSA action in Season 2
In a recent interview with Collider, DC's Stargirl lead actor Brec Bassinger discussed her excitement over the series' renewal. The actor said she received the good news from creator Geoff Johns, who kept her regularly updated throughout the renewal process.
"Our showrunner, Geoff Johns, is the greatest human ever," said Bassinger. "I'm very close to him and I speak to him very frequently. He was so nice and he kept me updated, throughout the whole thing, with any good news, any bad news, and what it was looking like. Throughout the process, I was up-to-date on things."
"As an actor, our jobs are so inconsistent and our lives rely so much on our next job, and everything else is just so up in the air," she added. "So, it gave me so much of a sense of peace, just knowing where I was gonna be, what I was gonna be doing, and who I was getting to work with. Geoff is just amazing. So, I'm very excited to get started."
Bassinger also revealed that the show will likely start filming in 2021. And with the new season, she hopes to see her JSA team back in action.
"I'm genuinely so excited about everything, but right now, I'm thinking about the JSA and getting my team back together, and getting to work with Cameron (Gellman), Anj (Washington) and Yvette (Monreal) again," said Bassinger. "We have so much fun, all of us in our supersuits and sweating, but loving every second of it. I just can't wait to get that team back together."
DC's Stargirl airs Tuesdays on the CW. 
Source: Read Full Article