Food Network Celebrities Weve Already Lost
In the relative dark ages of the '90s, cable TV was so wide open that there was a spot for most any niche interest or programming focus. The creators of Food Network had a hunch that there was not only a place, but a deep hunger for a channel that showed nothing but shows about cooking, eating, and culinary history, the kind of material often relegated to off-hours on public TV and educational channels. They were right — Food Network became one of cable TV's signature outlets, a source for some of the most excitedly beloved shows on TV. The network also turned charismatic and/or telegenic chefs — including Rachael Ray, Bobby Flay, Ina Garten, Emeril Lagasse, and Guy Fieri — into some of the most famous people in America.
Over the decades, hundreds if not thousands of chefs and food writers have helped bolster Food Network's programming, but sadly, many of them have died, and with little media fanfare. Here are some notable names from Food Network's past who we have already lost.
Indian cuisine master Floyd Cardoz was all over Food Network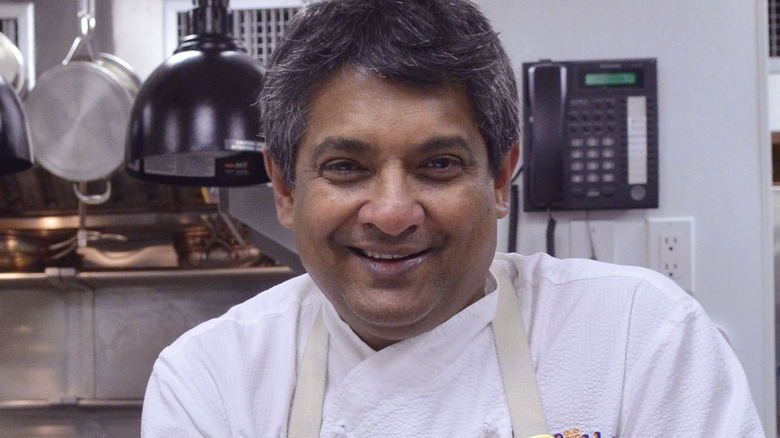 In terms of food television, Floyd Cardoz was best known for his work on Bravo, where he won Season 3 of the network's legends-only "Top Chef Masters" in 2011; he then donated the $100,000 prize to the Young Scientist Cancer Research Fund at Mount Sinai School of Medicine. 
Preparing appealing food on TV was old hat for Cardoz — he was a regular on Food Network; he appeared frequently on "Chef du Jour," judged his lessers on "Worst Cooks in America," and went head-to-head with Bobby Flay on "Iron Chef America." Cardoz was also extremely influential. According to The New York Times, his restaurants and cookbooks helped popularize Indian food in the United States and elevated the cuisine to the heights of fine dining.
In 2020, Cardoz opened an Indian-inspired treat store called Bombay Sweet Shop, and according to CNN he'd just taped an appearance in India for chef David Chang's Netflix series "Ugly Delicious." Not long after his return, however, Cardoz tested positive for COVID-19. Complications from the novel coronavirus would claim the life of the chef, and in March 2020 he died at a New Jersey hospital at the age of 59, according to NPR.
Fatima Ali competed on Food Network's Chopped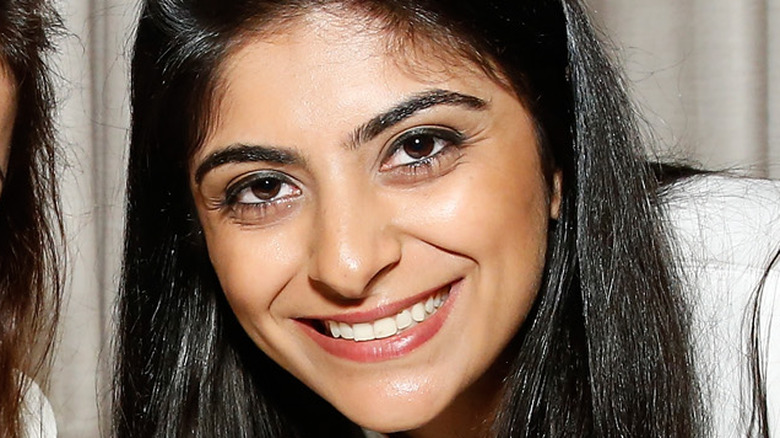 At the age of 18 in the mid-2000s, Fatima Ali moved from her native Pakistan to the United States in order to attend culinary school and follow her chef dreams. After working as a sous chef at New York City's Café Centro, according to The New York Times, Ali moved into TV, appearing on (and winning) an episode of the Food Network competition show "Chopped" in 2012, and competing on Bravo's "Top Chef" in 2017. Shortly after that show began filming, Ali was diagnosed with Ewing sarcoma — a rare type of cancer that affects the bone or soft tissue (per Johns Hopkins Medicine) — and was given one year to live, according to Bon Appétit. 
Ali continued to cook, stayed active on Instagram, and appeared on "The Ellen DeGeneres Show." In January 2019, just four months after doctors said she had a year left, Ali died. The news was delivered on Instagram by her friend and fellow chef Bruce Kalman. Ali was 29.
Kerry Simon was a rock star chef and Iron Chef America stalwart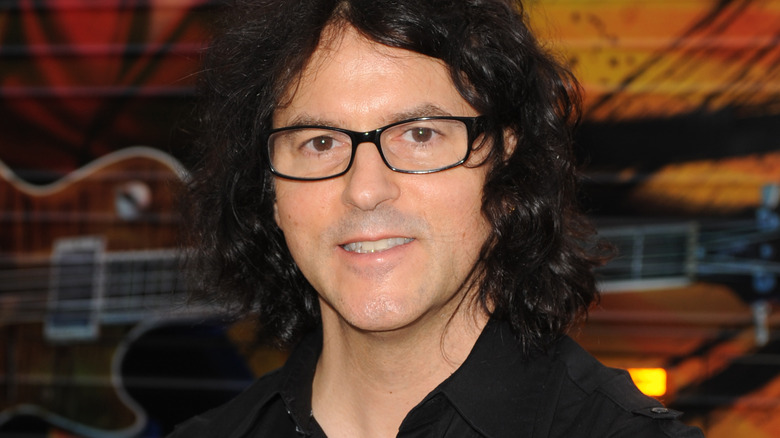 Celebrity chefs are often compared to rock stars, but Kerry Simon looked and acted the part, maintaining a mane of cascading locks while also literally catering to a clientele that included numerous frontmen and guitar heroes. According to Rolling Stone, who christened him "The Rock & Roll Chef" in the '90s, Simon placed a private table in the kitchen of The Edwardian Room — his restaurant in New York's ritzy Plaza Hotel — and invited the likes of Debbie Harry and David Crosby to dine. Additionally, Alice Cooper and Joe Perry of Aerosmith considered Simon a close friend. Simon's career trajectory followed that of a rock star, but with food — he headed to Las Vegas and opened some restaurants there, according to the Los Angeles Times. He also became a hit on TV, appearing on Food Network's "Iron Chef America" on multiple occasions.
In 2013 with his career flourishing, Simon was diagnosed with MSA (multiple system atrophy), a form of Parkinson's disease that is an uncommon, progressive, and ultimately a fatal neurological disease, according to the National Organization for Rare Disorders. The condition would take Simon's life in 2015 at the age of 60, per The Hollywood Reporter.
The Two Fat Ladies have both died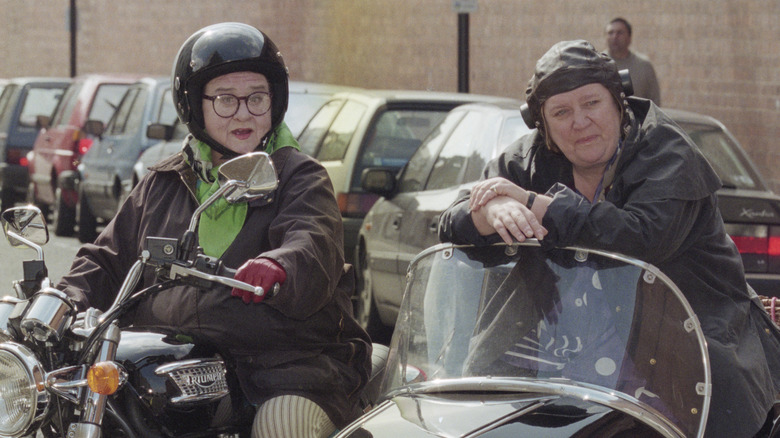 Debuting on the BBC in the United Kingdom but popularly exported to the Food Network in the United States, "Two Fat Ladies" both delighted and concerned viewers on both sides of the Atlantic. Ignoring the conventional wisdom and healthy eating trends of the '90s, hosts Clarissa Dickson Wright and Jennifer Paterson unabashedly went heavy on cream, butter, and other potentially artery-clogging ingredients over four seasons of their cooking show. "Two Fat Ladies" was also memorable for its ostensible premise of Wright and Paterson traveling around England to cook their large, fattening meals in exotic locations; the opening sequence showed animated versions of the hosts traveling via motorcycle and attached sidecar.
According to the Independent, Paterson became ill while shooting the fourth season of "Two Fat Ladies," and in July 1999 was diagnosed with lung cancer. She died in August of that year at age 71. Then in 2014, Wright died in a hospital in Scotland after a brief illness, per The Guardian. She was 66.
Judson Todd Allen built a healthy food empire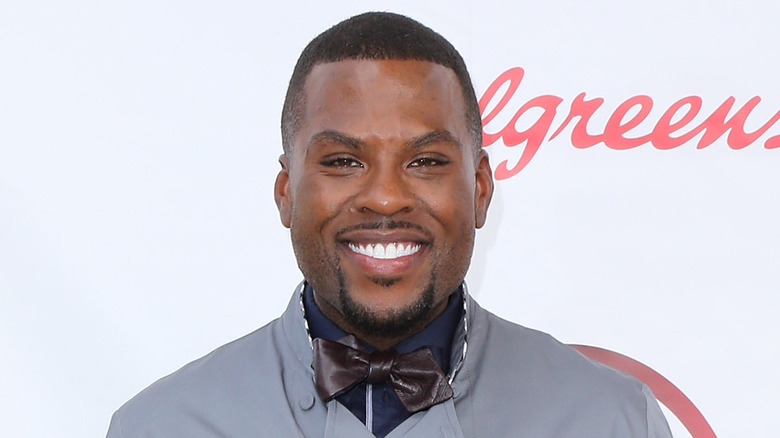 Judson Todd Allen proved himself a great TV personality in the making when he appeared on Season 8 of "Food Network Star" in 2012, with both a compelling backstory and notable cooking approach: He'd lost about 200 pounds and learned to cook foods that were healthy but still robust in flavor. With degrees in food science and public health from Chicago area universities, per the Chicago Tribune, Allen went on to become a private chef for celebrities like Jamie Foxx and Steve Harvey, whose weight loss-oriented meal plan Allen detailed in his book "The Spice Diet." 
Allen, the self-proclaimed "Architect of Flavor," also ran a nutrition-first catering company called Healthy Infused Cuisine and launched his own hot sauce. He also served as the head chef of the Chicago restaurant Taste 222, which opened in May 2017. Just one year after reaching that career milestone, Allen suffered an apparent heart attack and died. He was 36.
Carl Ruiz made a lot of television with Guy Fieri
Carl Ruiz was just minding his own business, doing what he loved and bringing happiness in the form of good food to other people, until fame came calling. After receiving classical chef training and working in many restaurants in his native New Jersey, according to The New York Times, Ruiz and his wife at the time, Marie Riccio, opened Marie's Italian Specialties. Per Patch, Guy Fieri popped in for a meal and the place was so "freakishly busy" that Ruiz put Fieri to work on the sandwich prep line. Not long after, Fieri returned to Marie's with his "Diners, Drive-Ins and Dives" crew in 2013, launching in earnest Ruiz's long association with Food Network. He appeared on "Triple-D" twice more, and made regular appearances on Fieri's "Guy's Ranch Kitchen." He also serve as a judge, mentor, and contestant on "Guy's Grocery Games."
While visiting friends in Maryland in September 2019, Ruiz died in his sleep. A medical examiner's office, per Today, would later determine that Ruiz died of atherosclerotic cardiovascular disease. He was 44. "I'm heartbroken that my friend chef Carl Ruiz is gone," Fieri tweeted at the time of the death. "His ability to make me laugh and smile under any circumstances was only outshined by his talent as a chef."
Jessica Vogel took part in Cutthroat Kitchen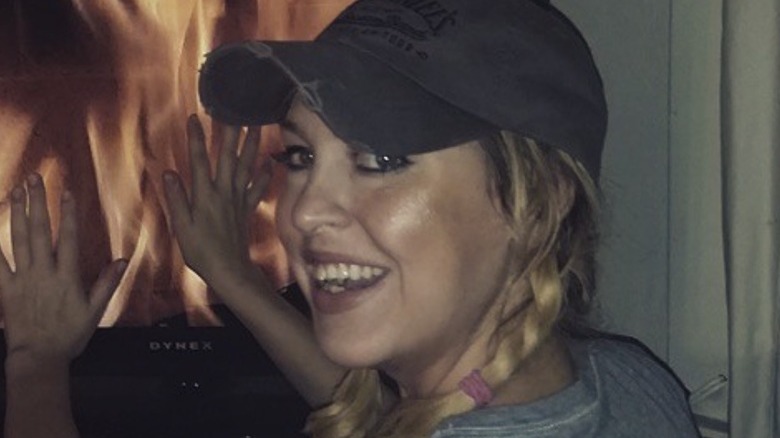 Like most Food Network stars and people who cook on television, Jessica Vogel built an impressive resume before she went before the cameras. According to USA Today, she trained at Johnson & Wales University in Denver, then headed home to New Jersey and worked at Kevin's Thyme; she also served as a pastry chef at Grange and Picnic in the Square, and then was elevated to the role of executive chef of Black Rebel Burger. In 2014, Vogel appeared on Season 12 of Fox's "Hell's Kitchen," finishing in twelfth place out of 20 chefs and cooks. Two years later, Vogel moved over to Food Network, competing on a chocolate-themed episode of Alton Brown's culinary game show "Cutthroat Kitchen."
Professionally, Vogel was wildly successful, but personally, she struggled; according to Legacy, she had issues with drug and alcohol addiction and sought treatment at a rehabilitation facility. According to her family, substance abuse took a tremendous toll on Vogel's body. While hospitalized due to a bout of the inflammatory bowel disease colitis in 2018, Vogel's heart stopped and she died at the age of 34.
If you or anyone you know is struggling with addiction issues, help is available. Visit the Substance Abuse and Mental Health Services Administration website or contact SAMHSA's National Helpline at 1-800-662-HELP (4357).
Cristie Schoen Codd competed on Food Network Star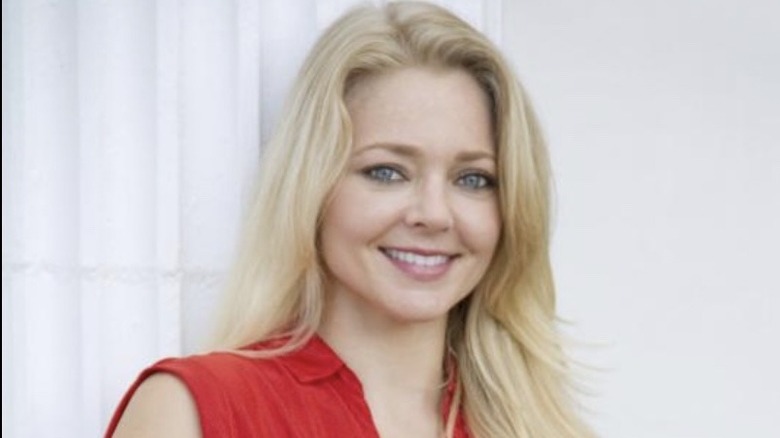 According to her Food Network bio, Cristie Schoen Codd was raised in the South and was exposed to regional cooking styles there early. She learned to cook Cajun cuisine with her father, but also incorporated elements of European food, which she picked up when she studied in Germany as a college student. All that helped Codd win a spot on the competition series "Food Network Star" in 2012, where she was the first contestant eliminated that year. Nevertheless, Codd had ascended the celebrity cooks ladder, and had plans on opening a New Orleans café serving healthy meals made with local ingredients. She catered the production of the big-budget sci-fi movie "Ender's Game" and was preparing two food shows to pitch to various outlets, including one called "Catch, Clean, and Cook."
Neither show was ever produced, owing in part to the tragic death of Codd. According to Inquisitr, Codd — who was five months pregnant at the time — and her husband were reported missing from their North Carolina home in March 2015. Soon after, Robert James Owens confessed to murdering the couple and dismembering and burning their bodies, then staging what looked like a botched home invasion and robbery.
Anthony Bourdain began his legendary TV career on Food Network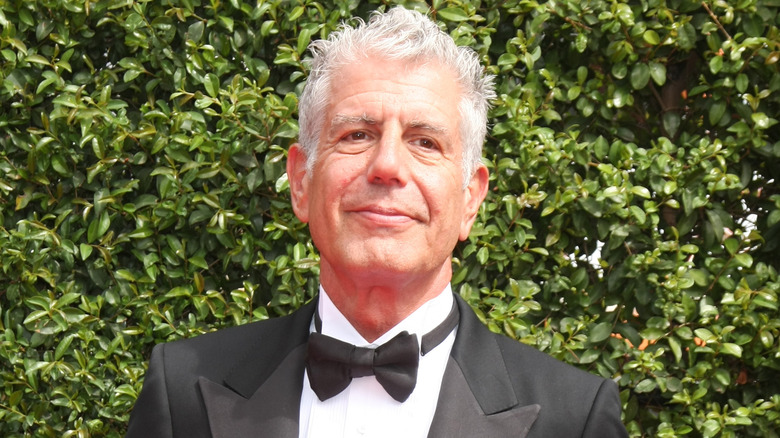 Anthony Bourdain would eventually become one of the biggest and most reverently worshipped names in food entertainment, but his journey to stardom was non-traditional. After training at the Culinary Institute of America in the '70s and working in many New York restaurants throughout the '80s, eventually rising in the ranks to become the executive chef at Brasserie Les Halles, Bourdain exploded onto the national stage in 2000 with the publication of his gritty and salacious cooking memoir, "Kitchen Confidential: Adventures in the Culinary Underbelly."
Bourdain's book caused such a stir that Food Network wanted him to be part of the organization. In 2002, the channel debuted "A Cook's Tour," Bourdain's first food-based travelogue. It ran for just 35 episodes before Bourdain moved onto the Travel Channel and later CNN to make extraordinarily popular shows like "No Reservations," "The Layover," and "Parts Unknown" — all of which followed the format the host explored on "A Cook's Tour."
In June 2018, according to ABC News, Bourdain was discovered in his hotel room in Kaysersberg, France. Authorities say that the chef committed suicide. Bourdain was 61.
If you or someone you know is having suicidal thoughts, please call the National Suicide Prevention Lifeline at 1-800-273-TALK (8255) or text HOME to the Crisis Text Line at 741741.
Keith Floyd was a major British figure and host on Food Network U.K.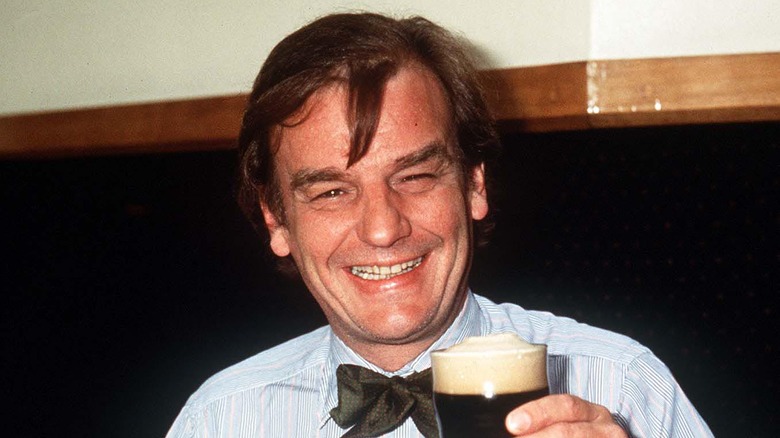 Years before Food Network even launched, when food on television consisted primarily of instructional cooking shows on public television, in came Keith Floyd, a globetrotting bon vivant who helped create the modern ideas of both the celebrity chef and food personality. Born in Somerset, England, Floyd initially endeavored to be a journalist, but then joined the army, where he built up his skills by cooking interesting dishes for officers, according to the Irish Times. Floyd also performed various duties in restaurants in London, eventually opening three restaurants in Bristol; there he was discovered by a TV producer, who helped him get onto the BBC in the mid-'80s with the shows "Floyd on Fish" and "Floyd on Food." He'd go on to publish more than 20 popular cookbooks and star on numerous culinary shows for the burgeoning Food Network U.K.
According to Express, Floyd was diagnosed with bowel cancer in 2009. Later that year, he died of a heart attack after a large lunch in honor of his partner's 65th birthday, per the Evening Standard. Floyd was 65 years old.
Anthony Sedlak made an impression on Food Network Canada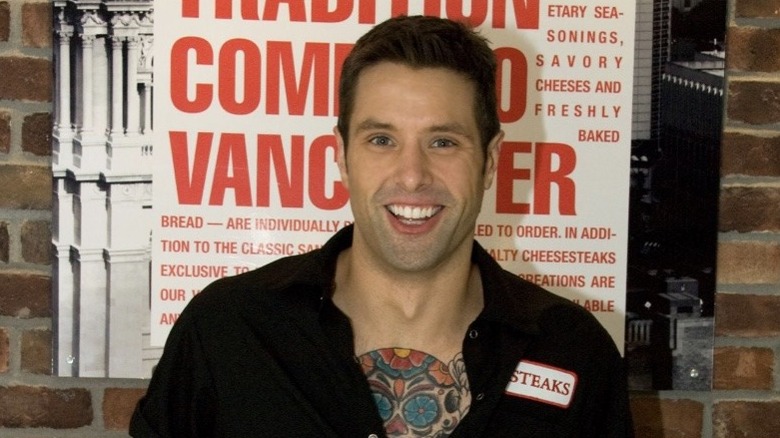 The journey to culinary-based fame for the Vancouver-raised and professionally trained Anthony Sedlak started on Food Network Canada, where, after winning the second season of competition show "Superstar Chef," he was awarded his own series, "The Main," which ran for four seasons. Sedlak also published a 2011 cookbook spinoff, the bestseller, "The Main: Recipes," and served as a judge on "Family Cook Off." In 2012, Sedlak made a big impression on American food television, appearing on "Anna & Kristina's Grocery Bag" on OWN, and then popped up on "You Gotta Eat Here!" for Food Network Canada. 
According to the Vancouver Sun, that would be Sedlak's final TV appearance. In July 2012, Sedlak collapsed from what the chef's family told the National Post was an "undiagnosed medical condition" and later that day, his body was discovered in his apartment in North Vancouver. According to the CBC, the British Columbia coroner's report ruled that the TV personality died from an intentional overdose of cocaine and prescription painkillers. Sedlak, who in addition to his TV food work had represented Canada at the World Junior Chef Challenge and worked at a Michelin-starred London restaurant, was 29 years old at the time of death.
If you or someone you know is having suicidal thoughts, please call the National Suicide Prevention Lifeline at 1-800-273-TALK (8255) or text HOME to the Crisis Text Line at 741741.
Ken Kostick was an early star of Food Network Canada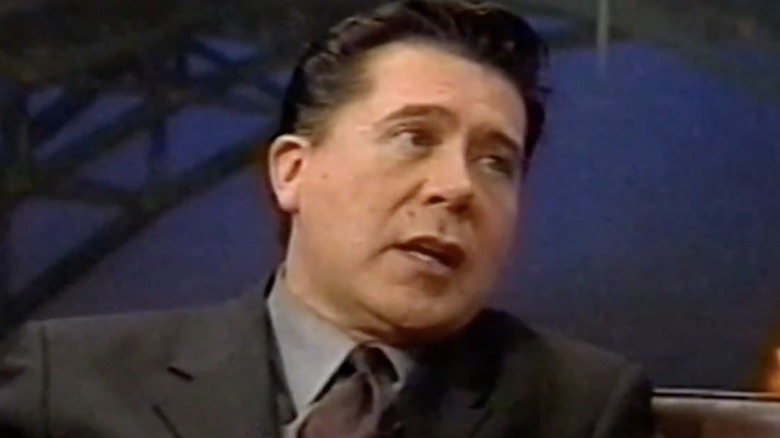 In the way that "Home Improvement" was a sitcom about a DIY TV host that included a show-within-a-show, so too was "What's for Dinner?", a Canadian cable TV show created by and co-starring chef and food writer Ken Kostick. With co-host Mary Jo Eustace, they'd joke and tease each other and also prepare dishes in the built-in cooking program. A two-time nominee for the Gemini Awards (Canada's Emmy equivalent), Kostick was so influential on the Canadian food scene that he also published 15 cookbooks, including "The $10 Gourmet," and had his own line of cookware. Kostick would team up with Eustace again on various TV and radio projects, while his cooking-oriented variety show, "Ken Kostic and Company," became one of the first and signature shows upon the launch of Food Network Canada.
In 2011, Kostick was diagnosed with acute pancreatitis. While recovering at home after treatment, he suffered a complication, and died according to the National Post. Kostick was 57.
Source: Read Full Article