How Many Movies Did Jennifer Lopez and Ben Affleck Make Together?
In the early 2000s, the world was obsessed with Jennifer Lopez and Ben Affleck's relationship. The intense media coverage of the couple ultimately led to them becoming known as "Bennifer." It also led to a difficult period for the stars and Affleck's friend, Matt Damon. Lopez and Affleck even played on-screen love interests during their romance. But in which movies?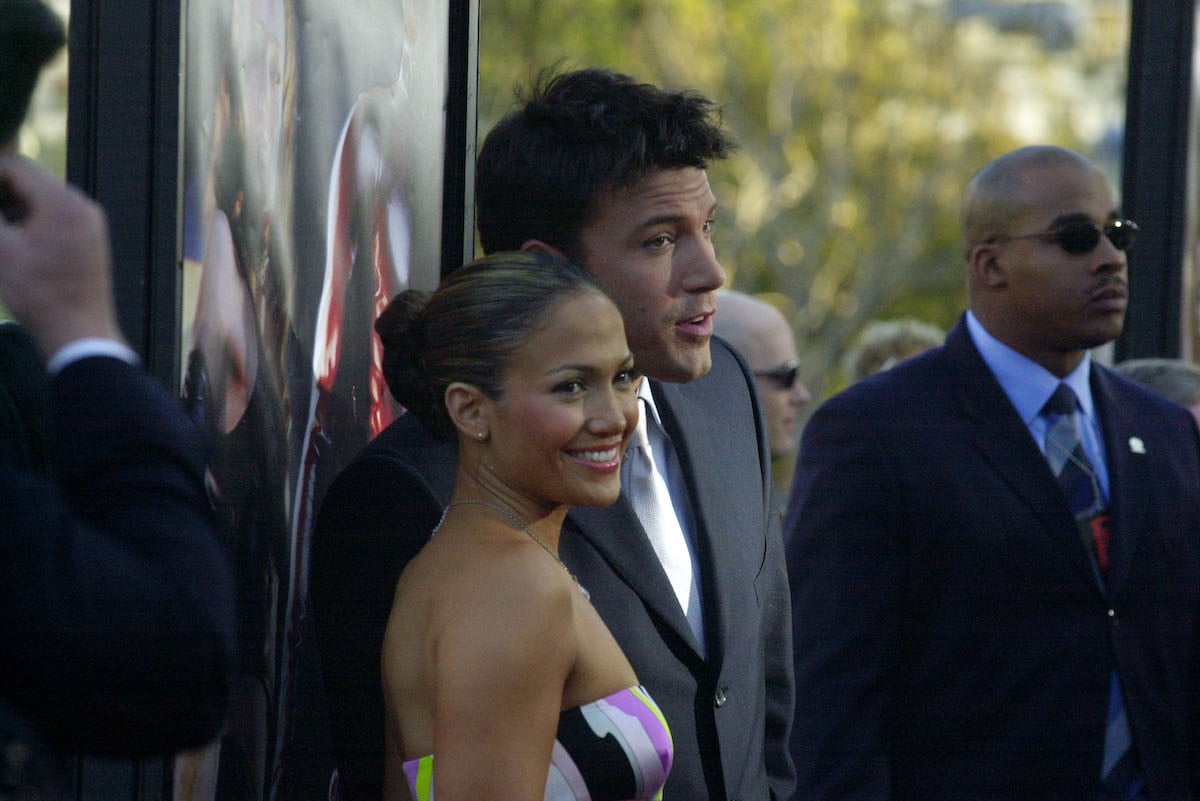 The two stars faced an epic flop when 'Gigli' was released in 2003
Lopez and Affleck's very public relationship already put enough strain on the couple. But the criticism only increased once Gigli released in theaters in 2003. The movie — directed by Martin Brest (Beverly Hills Cop) — stars Affleck as a hitman who falls in love with his latest co-conspirator (Lopez). Gigli was critically reviled and earned just $7 million worldwide, according to Box Office Mojo.
There are many reasons why Gigli doesn't work. Its representation of both the mentally disabled and the LGBTQ community are appalling by today's standards. And admittedly, Affleck, Lopez, and co-star Justin Bartha don't have much to work. However, the movie's status as an industry-wide punchline was heightened even further by the headlines about their real-life relationship.
'Jersey Girl' stars Ben Affleck and Liv Tyler but also Jennifer Lopez
Just months after their breakup, Lopez and Affleck shared the screen again in 2004's Jersey Girl. Unlike Gigli, this time they had minimal screen time. Affleck plays a single dad to a seven-year-old girl (Raquel Castro), whose mother (Lopez) died in childbirth. Lopez only appears briefly at the beginning of the film. Liv Tyler — who co-starred with Affleck in Armageddon — is his main love interest.
Directed by Kevin Smith, Jersey Girl marked a departure from the filmmaker's usual brand of comedy. After Gigli's failure, the marketing campaign greatly downplayed Lopez's involvement. Still, it underperformed at the box office with just $35 million worldwide. And though most reviews at the time were tepid at best, some of Smith's fans have come around on the movie over the years.
'Bennifer' fans are hoping Ben Affleck and Jennifer Lopex reunite
Considering their track record on screen, there's little chance moviegoers will see Affleck and Lopez in a movie together again. But the stars' fans have recently had reason to hope for a real-life reconciliation. Following her breakup with Alex Rodriguez, Lopez was recently spotted with Affleck. Naturally, the internet jumped to conclusions. But what's really going on?
According to sources, the two exes are just friends. Of course, that won't keep the media and fans from speculating. After all, Lopez and Affleck's relationship gave way to one of the first major celebrity couples of the new millennium. So many "ship" names have joined the lexicon since. It would truly be a nostalgic trip for them to find their way back to each other now.
Source: Read Full Article