Joe Exotic Is Now in a Coronavirus Isolation Unit While Serving His 22-Year Jail Sentence
Have you started watching Netflix's Tiger King: Madness, Murder, and Mayhem? Obsessed yet? Same, because the show has waaay too much drama to sidestep getting hooked on every detail of Joe Exotic's wild life. And speaking of the spicy details, Joe's fourth husband, Dillon Passage—who is 24-years-old, in case you didn't know—is telling the world about what's happened to Joe since he's entered prison.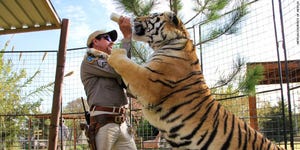 As a reminder, Joe is currently serving 22 long years in jail after being found guilty of paying a hitman $3,000 to kill his arch-nemesis, Carole Baskin. And on top of that, Joe was charged with 17 counts of animal cruelty (but that's another story). Despite the drama, Dillon's staying in touch with Joe and recently learned Joe has been moved to a coronavirus isolation unit.
"We speak like three to five times every day, but since he's been moved to this new facility, they are putting him on a COVID-19 isolation because of the previous jail he was at, there were cases," Dillon said during an interview with Andy Cohen. "I've yet to speak to him since he moved."
Thankfully, it doesn't sound like Joe caught anything from his previous facility—it's a measure to likely keep the other inmates safe. Dillon also chatted a bit about his relationship with Joe and said he plans to stick with him for the duration of his sentence.
"He was just super sweet to me and came off very genuine and a good down-to-earth guy," Dillon said, explaining that Joe really did help him. "I do love Joe. He was there for me at my darkest times and I'm not just gonna dip out and abandon him when he needs me the most."
Source: Read Full Article