Luke Perry's Net Worth: How Much Was The Actor Worth When He Died?
When Luke Perry died in 2019, it was a shot to the heart for any true television fanatic. Having made a name for himself playing the ever dreamy Dylan McKay on the original "Beverly Hills 90210" soap from its inception in 1990 to its end in 2000 (with a three-year break between 1995 and 1998) and then working on "Riverdale" playing Archie's dad, Fred Andrews, he's the kind of Hollywood actor beloved by multiple generations. 
In between "90210" and "Riverdale," he kept busy, of course, with other roles on both the small and big screens, including "Once Upon a Time in Hollywood," "Body of Proof," and "Oz," among many others, per IMDb. He was the kind of actor who never stopped working and the kind of guy who was reportedly adored by everyone he ever worked with if the outpouring of grief after his death are any indication. At the time of his death, he was swarmed by family and friends, per Page Six. The outlet reported, "He was surrounded by his children Jack and Sophie, fiancé Wendy Madison Bauer, ex-wife Minnie Sharp, mother Ann Bennett, step-father Steve Bennett, brother Tom Perry, sister Amy Coder, and other close family and friends." 
His life was apparently very rich. And at the risk of being nosy, it's worth wondering how actually rich he was at the time of his death, given his expansive career. It's alright — we did the digging for you. Read on to find out Perry's net worth.
Luke Perry left his fortune to his children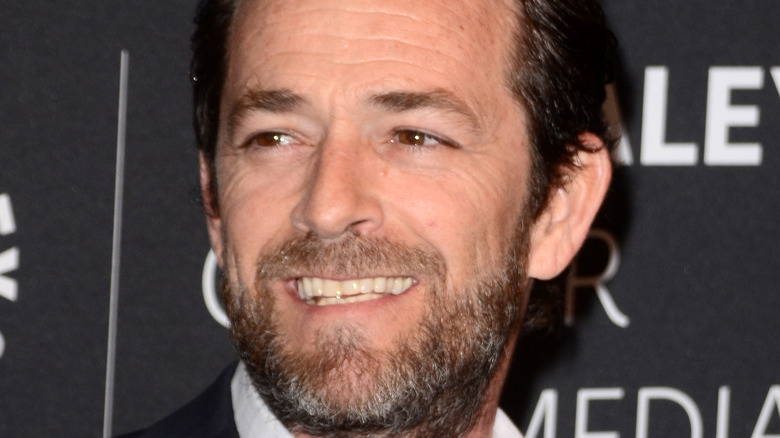 According to Celebrity Net Worth, Luke Perry was worth $10 million when he died in 2019, including his $2 million home in the San Fernando Valley in California. According to The Blast, his two kids, Jack and Sophie, inherited his trust and split it evenly. The home isn't on the market yet, though it definitely sounds like a good find. The Blast reports that it "is a delightful traditional home" and "located on a double lot in one of Sherman Oaks nicest neighborhoods. The white picket fence and gardens welcome you to the three-bedroom, three-bath home."
Although his death at just 52 years old seems way too soon, it's clear Perry lived the life he wanted to. He once said, via Newsweek, "I always felt like something of an outsider. But I identified with people on the screen. That made me feel like I wanted to be up on the screen too. I felt like eventually, I would get there." For him, acting was the real reward, even quipping, per the same outlet, at one point that "Porsches are glorified Volkswagens, man."
Given his "traditional" home and not being a hound for fancy cars and things, it makes sense that Perry had saved and earned so many millions over the course of his career. And something tells us that Perry's kids will do him right with their piece of his fortune.
Source: Read Full Article