'NCIS': Sean Murray Admits Gibbs and McGee Will Have to 'Realistically' Work Through the Aftermath of the Shooting
NCIS has finally cleared up the baffling season 18 opener that aired back in November 2020. After weeks of speculation about why Gibbs (Mark Harmon) shot McGee (Sean Murray) twice during the season's cold open, the show finally revealed the truth.
But even though fans now have answers, Murray says that Gibbs and McGee still have a lot to work out in the aftermath of the shooting.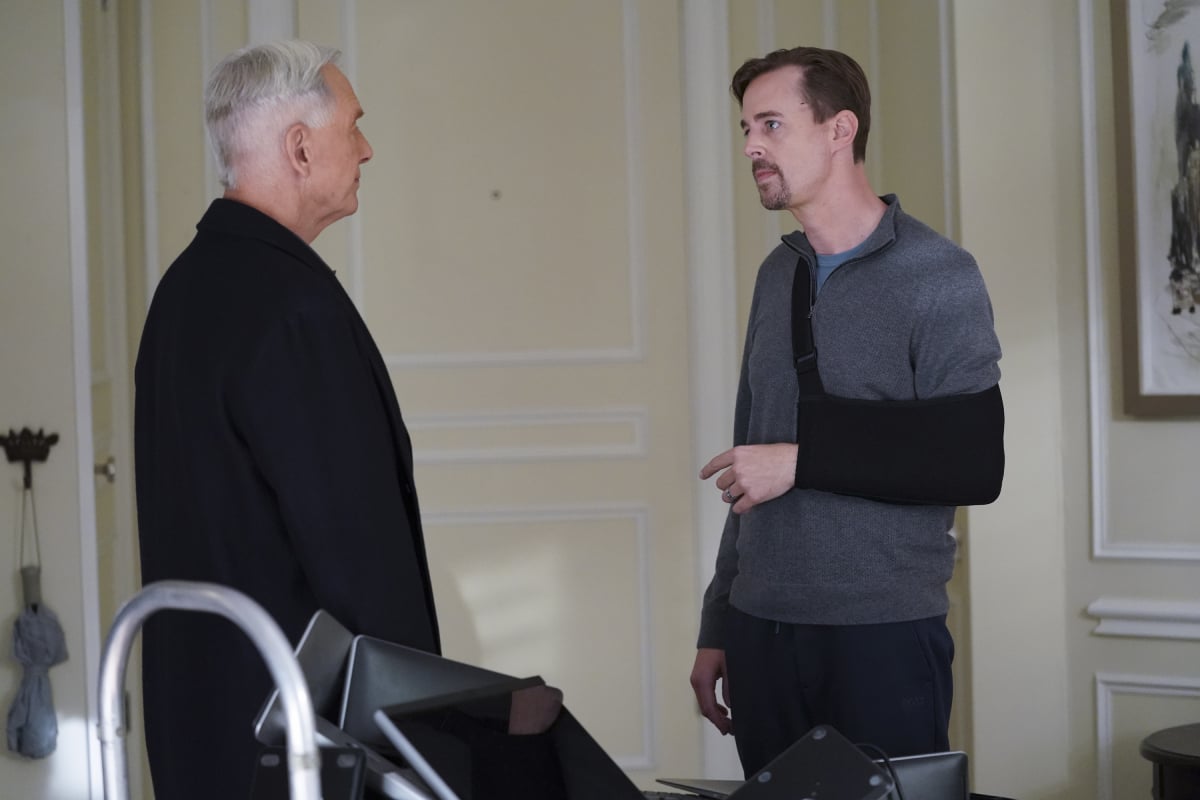 Why did Gibbs shoot McGee in the 'NCIS' season 18 cold open?
In the very first scene of season 18, fans witnessed Gibbs shoot McGee not once, but twice while he was on an airport tarmac. Gibbs was in sniper mode on top of an air traffic control tower, but it was clear that he wasn't shooting to kill. Gibbs shot his agent and close friend in the arm and the leg.
The time stamp on the scene was March 2020, which is the show's "present-day." But in the next scene they jumped back in time to November 2019. Then, they went through three full episodes (plus a six-week hiatus) without any reference to the season's cold open.
Finally, during the two most recent NCIS episodes that aired on CBS – Episodes 4, "Sunburn," and 5, "Head of the Snake" – the show finally caught up to the March 2020 date. Fans finally found out that Gibbs was shooting McGee to save his life.
What were the events that led to Gibbs shooting McGee?
As Cinema Blend notes, during the season's fifth episode Gibbs finally brought the NCIS team into the opioid drug ring case that he had been working on with Tobias Fornell (Joe Spano) and Leon Vance (Rocky Carroll).
But, this led to Nick Torres (Wilmer Valderrama) almost getting killed and Eleanor Bishop (Emily Wickersham) being taken hostage. The mastermind behind the drug operation, Merriweather, then suggests a prisoner exchange. He wants his confident Vladimir in exchange for Bishop. And, the exchange was supposed to happen at an airstrip.
The problem was, Vladimir was already dead. But, the NCIS team still agreed to the exchange and decided to have McGee pose as Fornell. The plan was to "turn the tables" on Merriweather, but he was already one step ahead.
He armed a plane with a bomb. But McGee – with his comms down – was heading toward the plane thinking Bishop was on board. His goal was to try and stop the plane from taking off.
Vance was able to alert Gibbs about the bomb, but they had no way to warn McGee. This is when Gibbs decided that the best course of action was to shoot his agent to get him to stop moving toward the trap.
'NCIS' star Sean Murray says Gibbs and McGee have a lot to work through
In the end, Bishop was alive, McGee didn't die in the explosion, and the NCIS team caught their bad guy. But, those gunshots did a number on McGee both mentally and physically. By the end of the episode, fans were left guessing on what the physical damage would be. There's also the question of McGee's mental health and his relationship with Gibbs.
Murray promised TV Insider during a recent interview that McGee "doesn't die." But, he did say that his character has a rough recovery.
"A lot of it is not necessarily just physical but emotional," Murray said. "Just wrestling with and coming to terms with — even in the situation of it being done to save your life — the fact that somebody so close to you, that's like a father figure to you, more so than even your real father was, shoots you."
Gibbs and McGee's relationship is a 'long, complicated one'
Gibbs didn't have much of a reaction to shooting McGee during the episode. But, Murray promises that the shooting does have an effect on the NCIS boss. And he says that both McGee and Gibbs struggle with the fallout.
"It's not like McGee just throws on a Band-Aid and says, 'We're good, Boss,'" Murray explained. "We very realistically explore some of the emotions and thoughts of the aftermath of what that really would be in dealing with that. Just the shock of what it is and the reality of, how do we face this and move past this?"
Murray notes that Gibbs and McGee's relationship is a "long and complicated one," and these events have complicated things even more. He says that the show will definitely explore how the shooting changes their relationship and work through the evolution of their relationship over the years.
New episodes of NCIS air Tuesday nights on CBS.
Source: Read Full Article