'RHOA': Kenya Moore Trashes Porsha Williams — Claims She Was Supporting BLM to Improve her 'Bad Image'
Real Housewives of Atlanta star Kenya Moore has reignited her feud with co-star Porsha Williams. More than a year after repairing their friendship, Kenya has accused Porsha of using the Black Lives Matter Movement to improve her "bad image." In response, Porsha has promised to pray for her misguided co-star.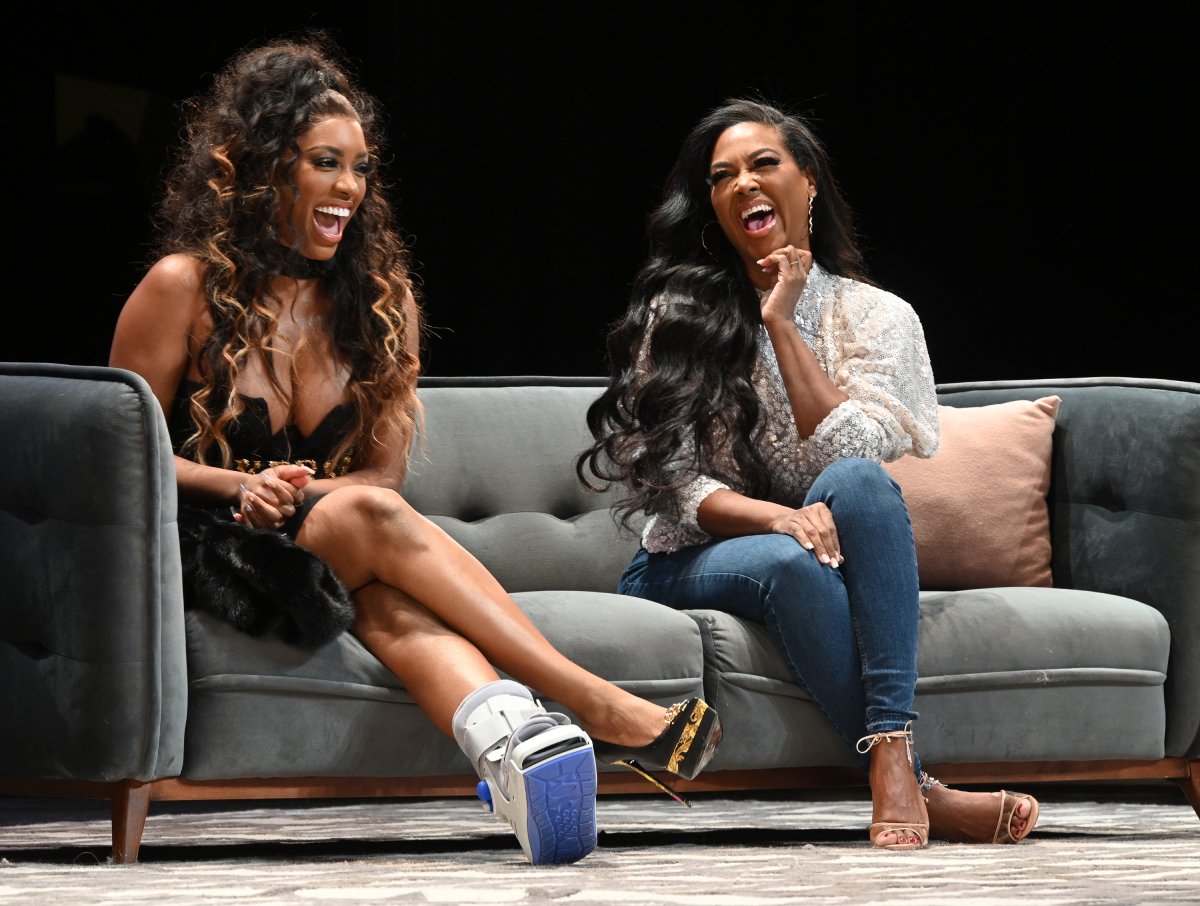 Kenya Moore questioned her co-star's involvement in the BLM protests
According to Screen Rant, things between Kenya and Porsha turned sour once again when Kenya questioned Porsha's social activism. Fans will remember that police in Louisville, Kentucky, arrested Porsha several times this past summer when she was protesting the murder of Breyonna Taylor.
In a recent RHOA episode, Kenya also called out Porsha's activism. She told Kandi Burruss that at this point, "it seems like maybe they are putting themselves in a position to be arrested."
The former Miss USA also took to her Instagram Stories last month to call out her co-star and activist Tamika D. Mallory. Kenya claimed that Porsha was using the BLM movement for personal gain.
This prompted Mallory to defend Porsha's involvement, and Porsha called out Kenya for not contributing to the fight against racial injustice. But instead of backing off, Kenya doubled down on her claims against her co-star.
Porsha Williams says she will pray for her 'RHOA' co-star
In her response, Kenya wrote that fans need to watch the entire season of RHOA, not just a yet-to-be-aired episode.  She also pointed out that her eyes, ears, and "magna cum laude education" are her friends, not Google.
"I'm not here to write a book/get ahead of a bad storyline/play victim/use a good cause to help a bad image," Kenya said. "Speaking of Porsha…you can't educate me on anything but how to install a good lace-front and be a freak."
Kenya wasn't done with her critique of her co-star. The mother of Brooklyn Doris Daly claimed that Porsha failed to ask her castmates to be part of her voting PSA. To add fuel to the fire, she also added some nasty hashtags like "fake, "pray for real," and "no violence means no violence."
In response, Porsha wrote on Instagram that she will not be shading anyone, and she refuses to battle the topic of BLM with a fellow black woman on TV.
"I take it very serious so all I will say is Kenya I will pray for you over the holidays and maybe even I can be a beacon of light in your dark heart," Porsha wrote.
Kenya Moore continues to throw shade at Porsha Williams
Kenya also threw shade at Porsha for fighting violence against black women while at the same time supporting Monique Samuels in her physical altercation with her Real Housewives of Potomac co-star Candiace Dillard.
She wrote, "Fake: If you fight for violence against a black woman except [for] the ones who deserved it." Kenya then told Porsha to drive her "hate Kenya train" onto the "same tracks as the underground railroad you thought existed five minutes ago."
According to Page Six, Candiace has also called out Porsha for spreading lies about her. The RHOP star says she has never met Porsha, and didn't have any issues with her until recently.
"I never had an issue prior to being sent a clip of her on Chat Room with my castmate Gizelle, lying and spreading false information — damning, defaming information — about me and alleging I was trying to sue Monique to secure a down payment on my home," Candiace said.
She explained that she responded to Porsha's comments because she "flat-out" lied. Candiace added that Porsha "should be careful about the lies that she tells" because it's a "very dangerous move."
New episodes of Real Housewives of Atlanta air Sunday nights on Bravo.
Source: Read Full Article