'RHONY': Leah Mcsweeney Won't Be Live Tweeting Because Twitter Is a 'Cesspool of Negativity'
Although the rest of her castmates tweet during and after the show, Leah McSweeney from The Real Housewives of New York City said there is no way she'd engage on Twitter too.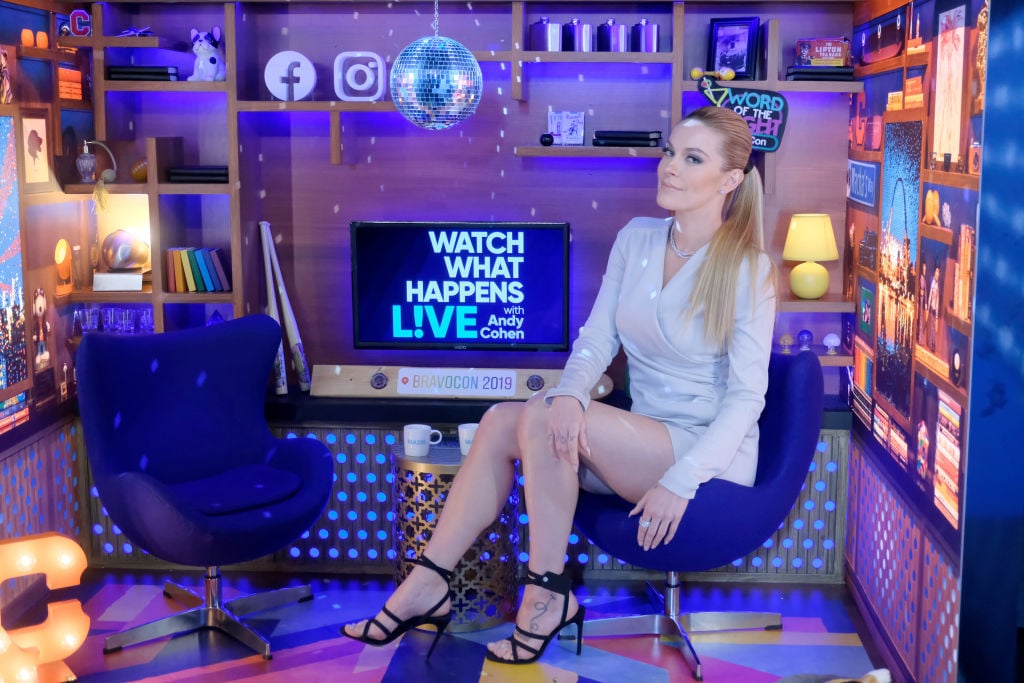 The Married to the Mob founder said she's happy with having an Instagram account and finds Twitter to be a pretty negative space. She appeared on Watch What Happens Live with Andy Cohen and Cohen shared during the After Show that McSweeney is the only Housewife not on Twitter.
Some Housewives and Bravo personalities are more engaged on Twitter than others. For instance, the cast of Below Deck are known to get into a full-on Twitter smackdown during an episode. Plus, the cast of The Real Housewives of Beverly Hills whipped the Denise Richards and Brandi Glanville romance rumor into a frenzy on Twitter.
Twitter is too negative for McSweeney
McSweeney shared why she stays off the social media platform. "First of all, you can only use like 116 characters," she begins. "How can you even express yourself through 116 characters? And from what I've experienced on Twitter and see on it, it's literally a cesspool of negativity and people trying to trash you."
She adds, "I'm already on Instagram, that's enough. Why add something else to the mix?" Actress Wendi McLendon-Covey was also a guest and agreed the space is pretty dark. "It's a snakepit, I agree with you. You're smart not being on it."Cohen also agrees. "Yeah, I agree too, I love it."
Cohen, who is very active on Twitter often replies to fan questions. When someone admonished him for delaying The Real Housewives of Potomac's premiere date after the trailer released he shot back on Twitter. "It's a smart decision. The virus has shifted production schedules for all our shows. There are currently two great housewives series running. Would rather have fresh content later than none," he responded to the viewer. Cohen also gathers questions for his WWHL guests on Twitter too.
Here's one good reason for McSweeney to stay off the platform
Public figures often trend on Twitter for all the wrong reasons. Only a day before her WWHL appearance, Twitter users flooded the platform with anger upon learning McSweeney had made anti-#MeToo remarks and has supported Trump, according to The Daily Beast. She wrote a column for Penthouse where she suggested Asia Argento and Rose McGowan leveraged the #MeToo movement for "personal gain."
Despite some Twitter searches producing positive views of McSweeney, the negative tweets were brutal. "Seriously who though it was a good idea to cast this bizarre woman on #RHONY ???" one person tweeted along with an article about her views.
Another person tweeted a question to Cohen leading up to McSweeney's appearance. "Ask #leahmcsweeney about this.. 'I think that Donald Trump is lying about being racist, I don't think that's a good thing, but he does business with tons of Muslim people. Are you kidding me? With the buildings and all that. He can act anti-Muslim, I know he's not. He's smart.'"
Some fans seem to be truly disappointed in the newest Housewife. "OMFG Leah McSweeney writes for THE FEDERALIST! She's a right-wing nutcase, how disappointing," a Twitter user shared.
Source: Read Full Article