Sorry 'Riverdale' Fans, It Doesn't Look Like a 'Sabrina' Crossover Will Happen
Fans of the show The Chilling Adventures of Sabrina probably have a lot of overlap or dare we say, crossover, between the fans of Riverdale. Both shows exist in the universe established by their original iterations as part of Archie Comics and both were created by writer, Roberto Aguirre-Sacasa. The two shows exist in the universe nearby geographically, with Sabrina's hometown of Greendale being just one town over from Riverdale. Beyond these foundational similarities, however, the rest of the information gets a bit murkier and it's uncertain if the two shows will ever meet in any real way on-screen. 
Do fans really want a Sabrina/ Riverdale crossover?
Looking at Twitter, it seems like some fans are a bit split on whether a crossover would be the best thing or the worst thing for these two shows.
In the pro-crossover camp, we have tweets like: "I need a Sabrina and Riverdale crossover. They have been teasing it enough," and, "OK but where is the Sabrina Riverdale crossover episode? I need to see Archie fight the devil."  
In the anti-crossover camp, we see tweets such as: "Riverdale and Sabrina, a potential crossover? Please don't." However, others are clapping back in support of the idea: "People are so mad at just the THOUGHT of a Sabrina Riverdale crossover. I'm so sorry y'all got no taste!" 
Sometimes there are tweets that defy comprehension such as: "Girls only want one thing and it's (a riverdale/sabrina crossover episode) disgusting," and, "I will literally d*e if sabrina and riverdale crossover. like if I see one character in sabrina I will fall out." 
Is falling out a good thing? It's hard to tell. Several Twitter users have falsely announced that there is a "confirmed" crossover, and have even posted as if it has already happened. So what's the real status of a potential crossover according to those in the know?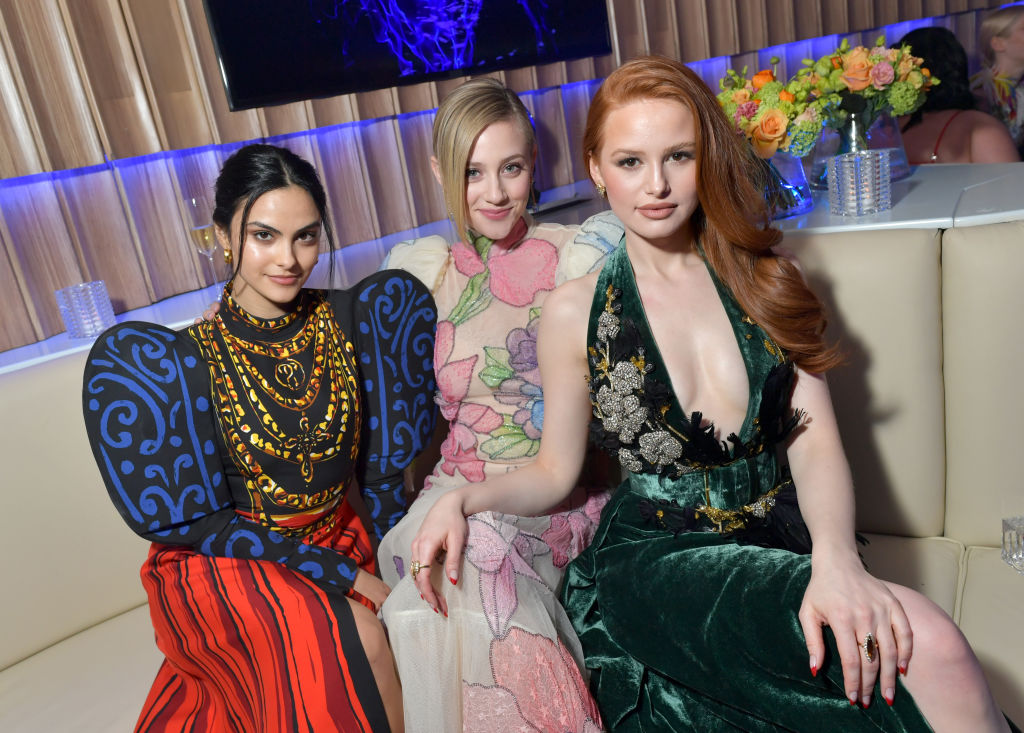 Stars of the shows give their take on a CAOS and Riverdale crossover
Despite existing in the same universe, the two shows are still worlds apart. The Chilling Adventures of Sabrina is on the streaming service Netflix, while Riverdale is on the network television station, The CW. Actress Camilla Mendes, who plays Veronica on Riverdale, cleared the confusion by stating that fact, adding: "If they were on CW, I think we totally would."
Kiernan Shipka, who plays Sabrina, on the other hand, seems to be stirring rumors to the contrary, albeit, possibly unintentionally. In an interview with Elle in January, she was asked if the two shows even take place in the same timeline, to which she answers in the affirmative (though this still isn't clearly established). She also hinted that "she definitely gets closer to Riverdale this year."
Spoilers ahead on that one. 
What crossovers, if any, are in the works?
Viewers CAOS, if all caught up, now know what Shipka was hinting at: her character Sabrina physically crossed over into the town of Riverdale. But alas, the change in physical location did not lead to a legitimate crossover episode or include any of the Riverdale actors. Fans are still hopeful, however, that a crossover may be yet to come for season 4, thanks to an Instagram post-Sabirna's official show Instagram made of Shipka with the actors that play Archie and Kevin on Riverdale with the caption "Riverdale is a big, scary place…"
There is a crossover that has actually happened, however, and show executives say will continue in the future: Riverdale and Katy Keene. The new show takes place 5 years after the Riverdale timeline and in New York City. Veronica will be in Katy Keene's circle, and the character Josie McCoy, played by Ashleigh Murray, is in both shows.
Source: Read Full Article