'The Boys': Antony Starr Reveals Why He Thinks Homelander Is the Weakest Supe of The Seven
Antony Starr plays the superhero/villain Homelander on Amazon's The Boys. With super strength and invulnerability, his character is the most formidable Supe on the show. But Starr recently revealed why he thinks Homelander might just be the weakest member of The Seven.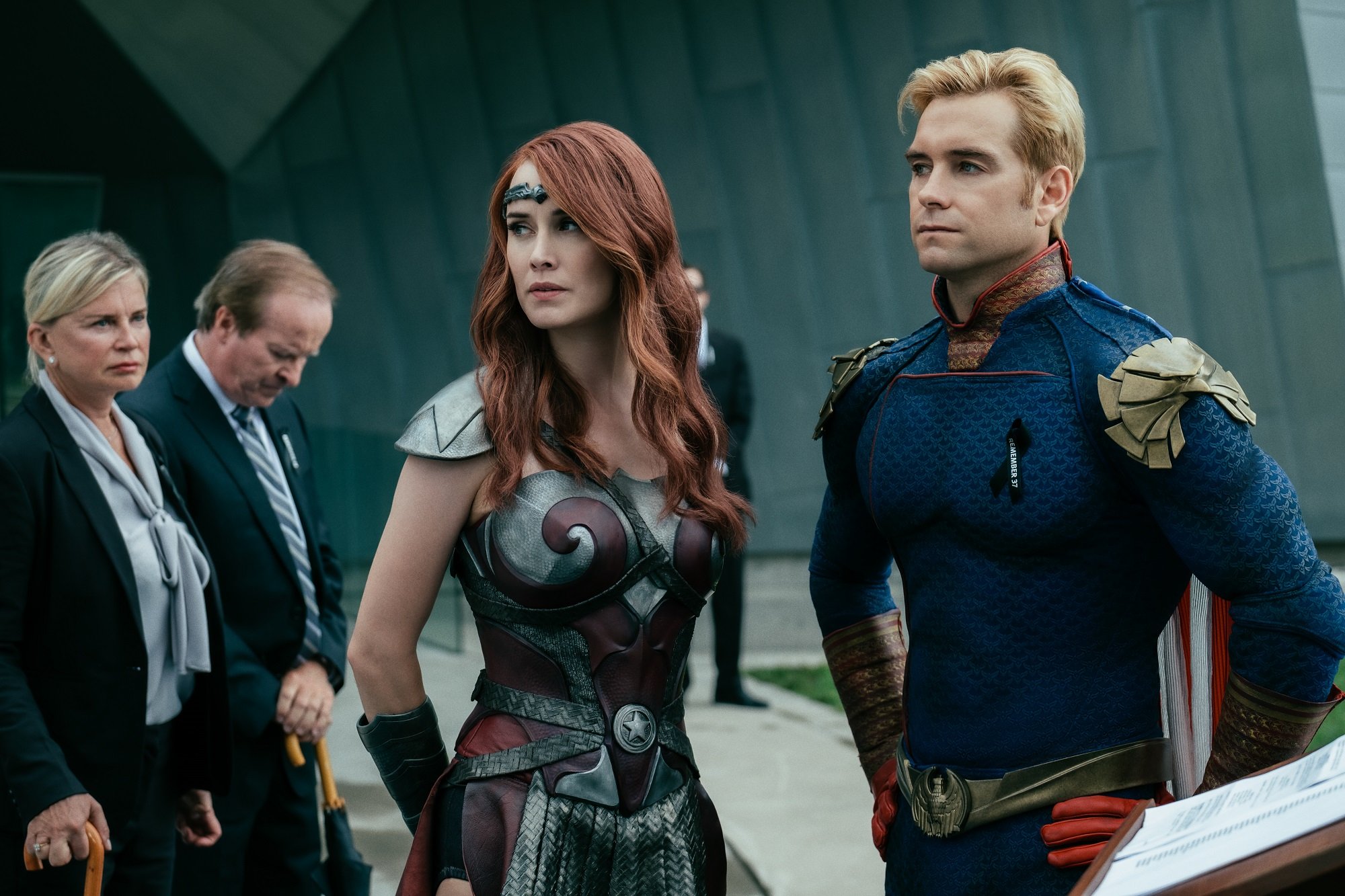 Homelander is physically the strongest Supe on 'The Boys'
Homelander is the leader of The Seven for a good reason. "There isn't a weapon on Earth that they haven't throw at him," Vought CEO Madelyn Stillwell (Elisabeth Shue) describes him in Season 1. "They've all failed."
With superhuman strength, stamina, and speed, Homelander is physically stronger than other Supes. And with the added bonus of heat vision, super hearing, invulnerability, and the ability to fly, he can easily take on any weapon or superhero/villain that comes in his way.
But the most terrifying aspect of his personality, which Madelyn and most of Vought knows well, is that Homelander is kind of a sociopath. Most of his actions are self-serving, and he has no problem killing people who don't serve his purpose.
'The Boys' showrunner Eric Kripke says Homelander has no physical weakness
When talking to Collider, The Boys showrunner Eric Kripke revealed that Homelander has absolutely no physical weaknesses. He noted that the Supe's invulnerability even prevents him from getting sick. 
"Someone just came up with a pitch the other day in the [writers] room of, 'Is it possible for him to even get drunk?'" Kripke said. "And I was like, 'I don't think so actually.' I  bet it can't be possible. He's just, you know, he's physically perfect." 
Antony Starr shares what really makes Homelander weak
In a separate interview with Collider, Antony Starr talked about Homelander's obvious mommy issues, especially this season, with Madelyn gone. "The removal of the mommy figure has really made things very difficult for him, from a work/life perspective," he said. "He's basically on his own now and the training wheels are off."
The actor noted that his character likes to appear as the strongest Supe, he knows his emotional vulnerability makes him weak. And he thinks that this essentially makes Homelander the weakest character on the show.
He's physically the strongest man in the world and the most dangerous man in the world, he's the super superhero," Starr explained. "But I've always viewed him, right off the bat, as the weakest character on the show, emotionally and maybe arguably spiritually. He's crippled, really, he's just dysfunctional.
"He has a very difficult time dealing with his own humanity," he continued. "If you compare him to Superman, his kryptonite is his own humanity, which he's constantly trying to avoid but also can't escape. It's one of the most important things that you always see that vulnerability. It's a weakness."
With Stormfront (Aya Cash) moving in on his position as leader of The Seven, and with his son Ryan basically telling him to f-off, it looks like Homelander will have plenty of emotional issues to face this season. New episodes of The Boys air Fridays on Amazon Prime Video.
Source: Read Full Article