'The Challenge': Cheyenne Floyd Called Her Family With Cory Wharton and His Girlfriend Taylor Selfridge 'Dysfunctional'
Cory Wharton is back on The Challenge with Total Madness, and he certainly has plenty of fans cheering him on. While we're excited to see how Wharton does, there's a lot going on for him back home. He just had a baby with his girlfriend, Taylor Selfridge — and we'll have to wait and see if he can bring home money from The Challenge to support his family.
Before Wharton was with Selfridge, we know he was planning a family with Are You the One? and fellow Challenge star Cheyenne Floyd. And Floyd has spoken out regarding her relationship with Wharton and Selfridge now. Here's what she said about their "dysfunctional" blended family.
Cory Wharton and Taylor Selfridge just had their first child together
https://www.instagram.com/p/B_iK3w1J1Vo/
Wharton and Selfridge met while on Ex on the Beach, In Touch Weekly notes. They dated for a brief time and then reconnected in February 2019. By the following October, they announced their pregnancy — and now, they just welcomed a child into the world.
"I want to WELCOME you guys all to Mila Mae Wharton 4/22/20 9:17pm 9lbs 5oz," Wharton captioned his Instagram post of Selfridge and their daughter. "I'm so blessed to be in this position and I'm so thankful that, in a time like this I was allowed in the room and I got to cut the umbilical cord."
Not only did Wharton give plenty of exciting news about the baby to his followers, but he also added that he's ready to watch his other daughter, Ryder, be an incredible sister to Mila. "I'm really excited for Ryder to become a big sister and I know she's going to do a great job and she already loves Mila you guys have no idea," Wharton added.
Wharton already co-parents with MTV star Cheyenne Floyd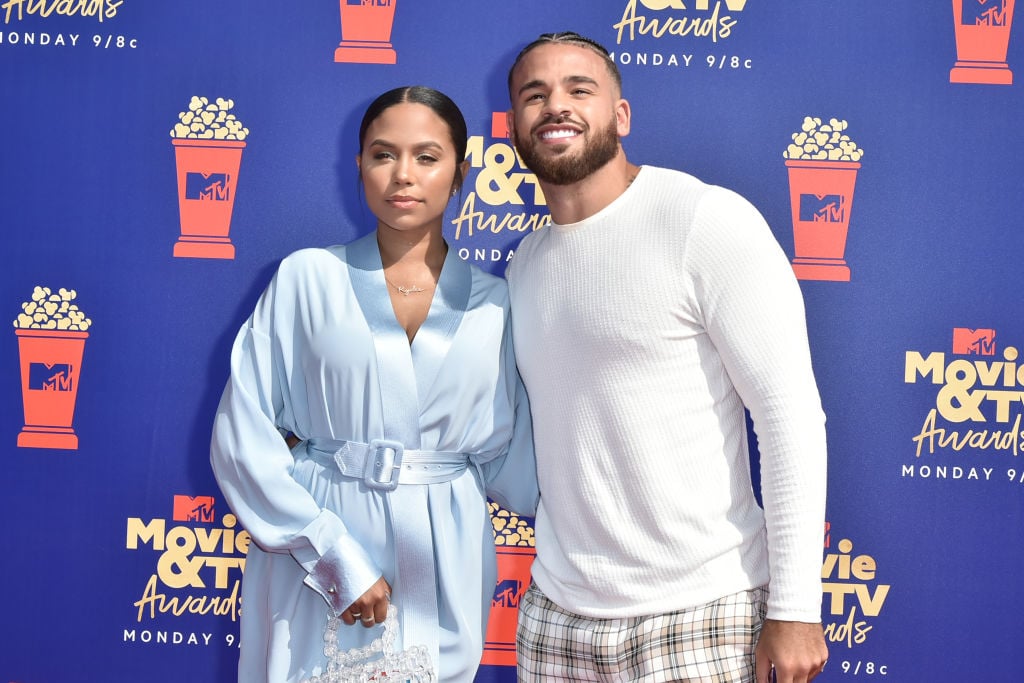 Wharton is no stranger to fatherhood. He previously had a fling with MTV star Floyd, and it looks like they have their co-parenting situation worked out quite well.
"I think with co-parenting, you have to have a strong communication with the person that you're dealing with, and you have to have forgiveness," Floyd shared with In Touch Weekly regarding her relationship with Wharton. "Putting your pride aside is definitely a big thing, and to just remember that the goal is … for Ryder to grow up in an environment where no, her parents aren't together, but in a sense they work together for her."
It seems Floyd and Wharton never had a long-lasting romance to start, which may actually help them effectively co-parent.
"It looks a certain way, but, you know, this actually takes a lot of work, and it does take a lot of talking. We talk a lot," Floyd added. "But at the same time, we talked a lot because we had to get to know each other and learn how to parent with each other."
Floyd called her blended family with Wharton and Selfridge 'dysfunctional'
https://www.instagram.com/p/B8ov-3MpS13/
So, how does Floyd feel about Selfridge joining their blended family? It seems she's supportive of her daughter having a little sister, and she noted she even helped Selfridge and Wharton plan some events before Mila's birth.
"I actually helped them plan their gender reveal and gave them all the vendors and places to call," Floyd told E! News. "People hear that and they're like, 'You helped your child's father plan their new child's gender reveal?' and it sounds so weird but it works for us."
Aside from that, she also called the three of them "definitely one big, weird, blended, dysfunctional family," but she's thankful there's no bad blood between any of them. "I would take our situation over us hating each other any day. It might be weird to some people, but it works for us," she told E! News.
We're excited to hear more about baby Mila and her sister, Ryder, in the future!
Check out Showbiz Cheat Sheet on Facebook!
Source: Read Full Article