The Truth About Below Deck Meds New Chief Stew Katie Flood
"Below Deck Mediterranean" will have a new chief stewardess when the hit reality show returns for Season 6. Katie Flood is taking over for her predecessor, Hannah Ferrier, who held the gig from 2016 to 2020. For those unfamiliar with the "Below Deck" franchise, the show follows the lives of nine yacht crews' members as they face challenges with each new group of passengers.
During Season 5, Hannah was fired by Captain Sandy Yawn for having undeclared Valium and a CBD pen. While Katie has acknowledged (via E!), that fans may not be "happy that Hannah's not here" she did note how it "worked out good" since Hannah's "in a completely different stage of life now" as a new mom. After leaving the show, Hannah gave birth to her daughter Ava Grace Roberts in October 2020. 
According to newbie Katie's Bravo bio, the New Zealand native is joining the Lady Michelle with more than six years of experience on both charter and private yachts. "Katie is no stranger to managing demanding owners and charter guests. No matter how difficult the request, she always manages to get it done and flawlessly," her bio reads. She also is said to have "an affinity for travel and adventure," and her Instagram page features photos from around the world. Some recent posts show the beauty of Alaska, Mexico, and Panama. Katie also posted a preview of her time in Croatia for the show, writing that it was "one wild ride."
Katie Flood feels pressure in her new role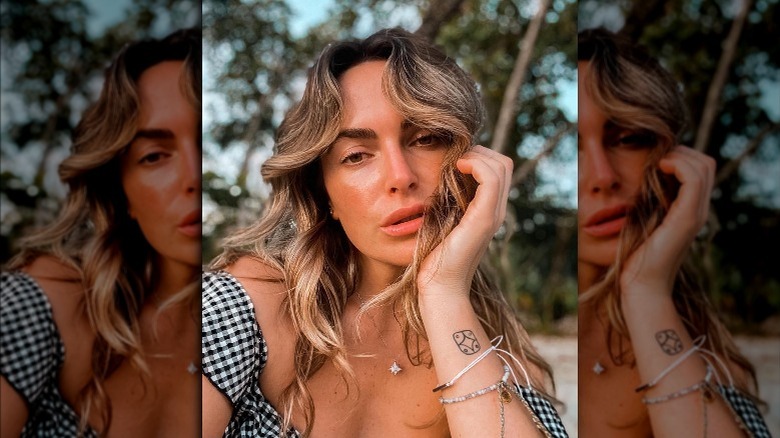 Starring on the hit Bravo show "Below Deck Mediterranean" seemingly just, well, happened. She revealed to E!, "This opportunity sort of fell in my lap at the right time, and all signs pointed towards me doing this. So, I just went with my gut and here we are."
But it appears the new chief stew is aware of the pressures that come with this particular reality show. She admitted, "You know, I'm not perfect. I am a human and I do have emotions." She added, "Things do affect me. You know, there's so much pressure in this role, and then it's like, you add the lack of sleep, the demanding guests, the drinking, like, all this stuff. It sort of boils up, and that's when you have these emotional moments."
As for taking over Hannah Ferrier's job, Katie revealed how "every one of us have a different way of doing it or bring different strengths to the table. So, I just think it will be refreshing for the viewers, maybe." And Hannah seems to be in Katie's corner. Hannah told the "Dear Diary, You're Effed" podcast, "I sent her a message once it came out and I said, 'Hope it goes well, I'm sure you're gonna rock it. If you need any advice or anything let me know." 
Source: Read Full Article