'Tiger King': Carole Baskin Doesn't Want Real Big Cats in Kate McKinnon's Show, Says It Would Be 'Cruel'
Kate McKinnon is set to play Carole Baskin of Tiger King in a new series. Baskin made it known that she wasn't happy about the Netflix series. Now she is publicly asking McKinnon's show to avoid using real big cats to tell the story of her rivalry with "Joe Exotic" or Joseph Maldonado-Passage.
Carole Baskin shared her reaction to 'Tiger King'
Tiger King followed all of the events that led to Maldonado-Passage being found guilty of two counts of hiring someone to murder, eight counts of violating the Lacey Act for falsifying wildlife records, and nine counts of violating the Endangered Species Act. He was sentenced to prison for 22 years.
He tried to hire someone to murder Baskin. That's because she aimed to stop his business of breeding big cats and having a petting zoo centered on their cubs.
The series also focused on the claims Maldonado-Passage made against Baskin. He accused her of being involved in her husband's, Don Lewis, disappearance. However, there is no evidence of foul play in his disappearance.
Baskin has since shared her disappointment over the Netflix series in a blog post called "Refuting Netflix Tiger King." She wrote the filmmakers claimed the project would be focused on the mistreatment of big cats.
"There are not words for how disappointing it is to see that the docuseries not only does not do any of that, but has had the sole goal of being as salacious and sensational as possible to draw viewers," read the post. "As part of that, it has a segment devoted to suggesting, with lies and innuendos from people who are not credible, that I had a role in the disappearance of my husband Don 21 years ago."
Kate McKinnon will play Baskin in a show
The Tiger King phenomenon will likely come back again. That's because Wondery's podcast, Joe Exotic is being adapted into a scripted TV show.
McKinnon is executive producing the show along with Wondery's Hernan Lopez and Marshall Lewy. She's also set to play Baskin in the project. There aren't any other details, but Baskin is already reacting to the news.
She doesn't want real big cats in the show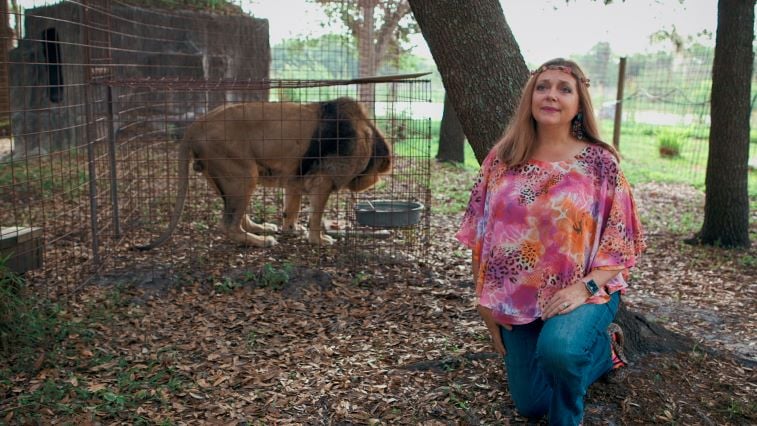 Baskin is now reacting to the news of McKinnon's show. She has one request and that's to avoid using real big cats for the series.
"Kate McKinnon is a wonderful actress. Big Cat Rescue implores Kate McKinnon to not use real big cats and cubs in the making of her series," she said in a statement given to Entertainment Weekly. "The Wondery podcast, which is the basis for her series, explores the rampant breeding, abuse and exploitation of big cats by breeder and exhibitor Joe Exotic. It would be cruel to use real big cats in a television series about cruelty to big cats."
The statement also suggests what the show should do instead. "We urge McKinnon to utilize computer-generated imagery (CGI) of cats in the show rather than forcing real big cats to suffer just to entertain the audience," reads the statement.
It then goes on to talk about the message of this project. "We hope McKinnon has a passion for animals and that her series will focus on the horrible lives captive big cats lead when exploited by breeders like Joe Exotic," the statement added. "We further hope she urges the public to support the Big Cat Public Safety Act that would end the cub petting abuse in America."
There has yet to be any details about how the show will approach portraying the cats.
Source: Read Full Article