'Today Show:' Savannah Guthrie Gets Real on Broadcasting From Home With Her Kids During Quarantine
Savannah Guthrie of the Today Show has been co-anchoring the morning news program from her home since March 18 due to the coronavirus crisis. Though the seasoned journalist has been a lead co-host since 2012, reporting live from her home has proven to come with some challenges.
The NBC star recently shared some of her experience of being on the air from her basement studio while her two young kids are also at home during the current quarantine.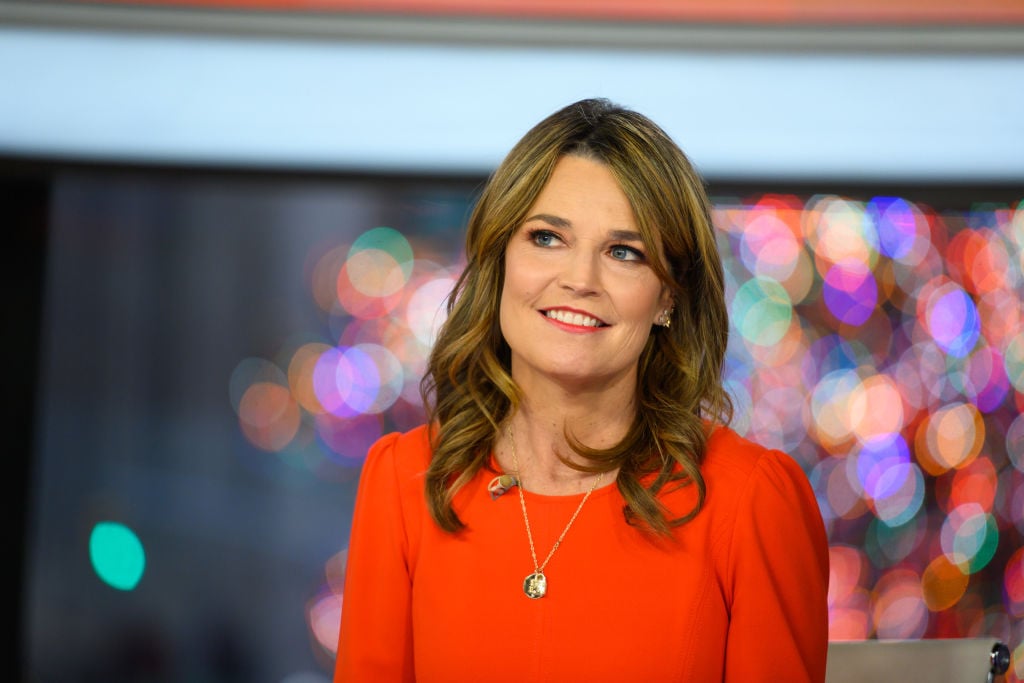 Guthrie's view of motherhood later in life
Guthrie has two kids – daughter Vale, 5, and son Charley, 3 – with husband Michael Feldman. Becoming a mom for the first time at the age of 42, Guthrie saw many positives to beginning her parenting journey at a later age.
"I think one great thing about being an older mom is that you are at a different place in your career where, in many cases, you have a little more say over your schedule and the choices you make," she told Health Magazine in April. "In your 40s, and now my mid-to-late 40s, you have the difference in attitude where you can figure out what matters and what doesn't. And guess what? What matters is your family."
Though the Today star hadn't planned on having kids in her 40s, Guthrie feels that she welcomed her children at the perfect time in her life. "Having kids later in life wasn't so much a choice—it was just the way life happened for me—but when I think about being in my 30s and what I was doing and trying to build a career, it would have been incredibly difficult for me to have kids back then," Guthrie said.
Working from home
Reporting from a makeshift studio in her basement for over a week due to the coronavirus outbreak, Guthrie has been spending an unprecedented amount of time working at home with her two kids in tow.
"I really feel like I've actually kind of snapped at my kids more in the last seven days than I have in their entire lives," Guthrie revealed, according to Today.com. "I think because even though we're trying to keep it pretty cool and even-handed, they sense that something's different."
Guthrie's daughter is apparently enjoying the time with her mom, where Vale is literally trailing the news woman throughout their home.
"I know, it's so sweet, (but) it's a lot of togetherness," the Today co-host shared. "My little daughter has been literally following me from room to room. I literally tripped over five times yesterday because that's how close we are right now."
Mother-daughter moments
Guthrie spoke with co-hosts Hoda Kotb and Jenna Bush Hager earlier this week on how the current crisis is having an effect on her kids, where her daughter is struggling with sadness from not seeing her classmates.
"She finally just said, 'Mom, I think I miss school,"' Guthrie shared with Kotb and Hager. "'I miss my friends, I miss morning meeting, I miss recess, I miss Mr. G,' and it just kind of broke my heart, but also just also broke it wide open."
The mom of two encouraged Vale to let her emotions out so they wouldn't fester and cause further distress. "I'm like, 'You tell me more about that, what else do you miss?"' Guthrie said. "Let's hear it, let's get it out. Do you have any more tears to cry? Let's all cry.' And then let's move on. And I think sometimes we need to do that."
Guthrie is clearly doing a phenomenal job as a top anchor and mom!
Source: Read Full Article