'Today Show:' Savannah Guthrie is Godmother to Co-Host and BFF Jenna Bush Hager's Son
Jenna Bush Hager and Savannah Guthrie of the Today Show are colleagues, neighbors, and obvious besties. Both with full families that include young children, the co-hosts often coordinate playdates, workout sessions, and couples' outings with their husbands.
Fans recently found out that Hager officially made Guthrie a part of her family when she asked the news woman to take on an important role for her 8-month-old son Hal.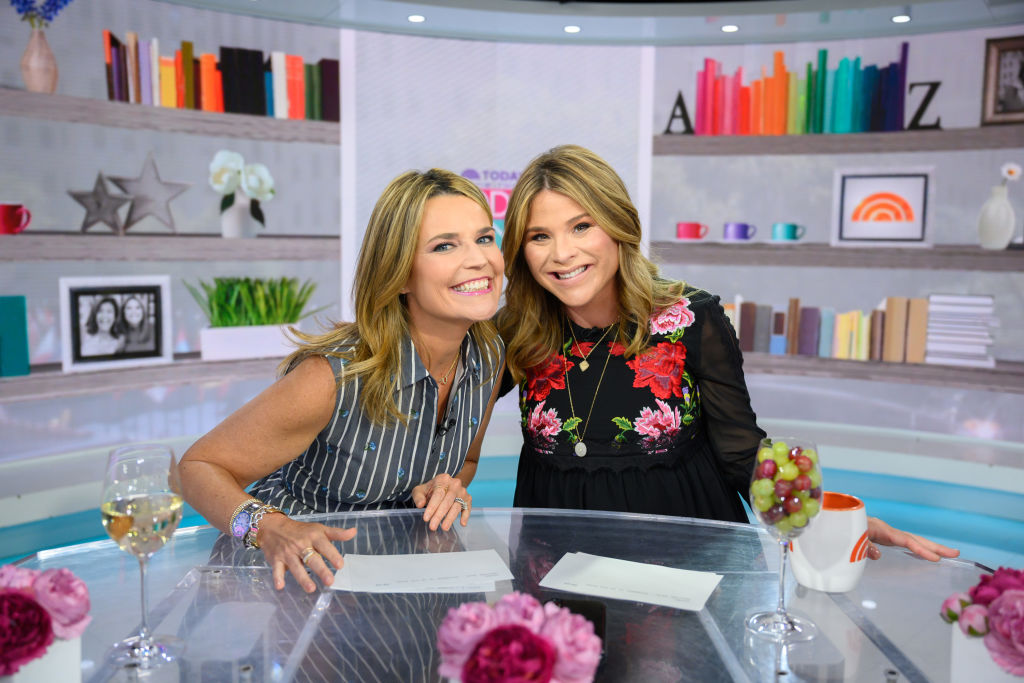 'Today' star's close connection with her co-host
In a recent Instagram Live with E! News' Jason Kennedy, Hager shared that she and Guthrie have a special bond that reaches outside the workplace.
"I've never said this before, but Savannah is Hal's godmother," Hager revealed of Guthrie regarding her baby son, whom she and husband Henry welcomed in August. "Savannah and I go to the same church. Our faith is really important."
Hager praised Guthrie for her support when her grandfather, former President George H.W. Bush, passed away. Guthrie had written prayers for Hager to read at their church and took over for the mom of three when Hager was overcome with emotion.
"I was shaking so hard, sobbing so much that Savannah kind of had to step in," Hager said, according to Today.com. "But I think that's what a really beautiful friend does, they step in when you have lost your voice."
Savannah Guthrie comments on friendship with Jenna Bush Hager
Both Today co-hosts have young children on the home front. In addition to her son, Hager and her husband also share two daughters – Mila, 7, and Poppy, 4. Guthrie is the mom of two with husband Mike Feldman to daughter Vale, 5, and son Charley, 3. Hager and Guthrie's children even share a birthday.
"You know Jenna's daughter Poppy has the same birthday as my daughter Vale one year apart? … She's one of my closest friends," Guthrie said of Hager to E! News. "We exercise together—well, we try to exercise. Most of the time, we just talk but it's so fun to go to a place where it's intense and all-consuming yet you are with people that you love and truly enjoy."
Hoda holds a special place in Hager's heart
The Today star heads the morning program's fourth hour with anchor Hoda Kotb, to whom Hager is also especially close.
"To work with somebody like Hoda, who really lifts people up, whose kindness and grace is just remarkable, I feel so lucky," Hager said of her co-host on Today with Hoda & Jenna. "You want to surround yourself with people with good energy, and I'm not sure anybody has better, more authentic, more vibrant energy than Hoda Kotb."
Kotb also welcomed an addition to her family when she adopted her second daughter Hope with fiancé Joel Schiffman in April 2019. Hager previously commented on the joy of growing her family at the same time as her colleague and friend.
"To be able to do it with Hoda, to have this special moment together, to create this baby, our show, and then these babies, has been a really beautiful moment in our lives," Hager said, according to People. "We appreciate all of you who have supported us through it all … I just feel overcome with gratitude that we get to expand our family … But it's a beautiful time in my life, it's a beautiful time in Hoda's life."
See all of the Today co-hosts weekday mornings on NBC!
Source: Read Full Article