'Vanderpump Rules': Tom Schwartz Reveals He Was Put in the Middle of the Dueling Pool Parties
Two pool parties held on the same day forced the cast of Vanderpump Rules to choose sides. Jax Taylor took it very personally that Tom Sandoval scheduled his party on the same day he planned his. Tom Schwartz just felt stuck in the middle.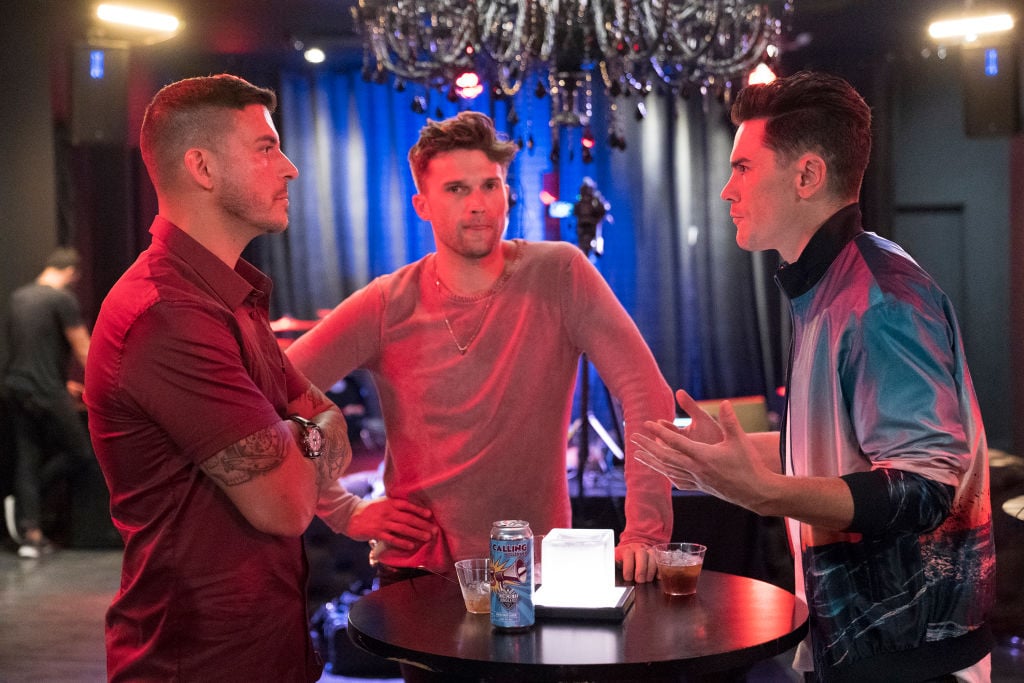 Taylor felt as though Sandoval's party was a personal attack on his wife Brittany Cartwright since it is Cartwright who tirelessly plans events. He lashed out at Sandoval on the Vanderpump Rules After Show, warning Sandoval if he comes after his wife, he's coming after him.
But Sandoval, on the other hand, didn't see it that way. And while the entire cast had to choose which party to attend, Schwartz was more stuck in the middle than ever. Schwartz is close friends with both Sandoval and Taylor. He is business partners with Sandoval but was Taylor's best man at this wedding.
Schwartz planned to attend both (but Taylor put an end to that)
Cameras followed each pool party, making it look like Taylor's flopped and Sandoval's raged. Most of the cast seemed to attend Sandoval's event and it appeared like a typical Vanderpump Rules wild party. Whereas Taylor's party was more lowkey and resembled more of a civilized cocktail party.
RELATED: Bravo's 'Summer House': Carl Radke Teases More Cast Summer Parties With Fan Access (Exclusive)
Schwartz said he planned to attend both parties. "I wanted to go to both but [Taylor] sent me these long texts about how I should just not come," he shares. "I think it came from a good place. Because he knows how I am. And how I was gonna be torn."
"Jax started texting Schwartz for no reason," wife Katie Maloney-Schwartz recalls. "It was like, 'Hey man I don't think you should come to my party. Like I think you should support Sandoval. He's your business partner." Lala Kent pipes up, "He was being a martyr."
Maloney-Schwartz shared that her husband tried to tell Taylor he was going to his party too. But Taylor told him he didn't want Schwartz to come.
Did Taylor's texts create the division?
"I was exhausted about the ridiculousness of the whole situation," Schwartz says. "I was like, 'Alright, I'm just gonna go to Tom's and chill.'" Maloney-Schwartz was annoyed with the games Taylor was playing too by uninviting everyone to the party, but at the same time expecting everyone to show up.
RELATED: 'Vanderpump Rules': Is Jax Taylor Having Post-Wedding Depression?
Cartwright thinks everyone is piling on her husband after he's made such strides. Cast members ended up sharing Taylor's messages at Sandoval's party which added fuel to the fire. "But at the same time, people need to realize you've done things like that too," she says. Adding, she called Maloney-Schwartz to point out she's rage texted people in the past too. Of course, the confrontation went south.
Cartwright now admits telling Maloney-Schwartz that she rage texts people all the time (to make a point) was a bad idea. Maloney-Schwartz agreed that Cartwright was out of line for calling her out. "But this is Jax's fault," she says. "We would be at your party right now if it wasn't for your husband."
Sandoval adds that at one point Taylor called James Kennedy, who Taylor had a strained relationship with, to D.J. at their party. Of course, Kennedy already planned to D.J. at Sandoval's party.
Source: Read Full Article