What Are The Winklevoss Twins Doing Today?
The Winklevoss twins may have lost out on Facebook ownership, but today they're founders of their own extremely successful digital businesses. Tyler and Cameron Winklevoss shot to fame after their multi-million-dollar lawsuit against Mark Zuckerberg made the big screen in 2010. "The Social Network" presented a dramatized version of Facebook's founding, which saw the twins (portrayed by Armie Hammer) accuse Zuckerberg of stealing their idea.
While the twins were never able to get their hands on the social media platform, they did eventually reach a legal settlement with Zuckerberg, who agreed to pay them $45 million in Facebook stock and $20 million in cash back in February 2008, per Entrepreneur. Then just six months later, the Winklevoss twins (who were keen college rowers) represented the U.S. as a "coxless pair" at the Beijing Olympics. Despite their disappointment of missing out on a medal by finishing sixth, the duo didn't console themselves by spending big — instead they saved their newfound fortune as a little nest egg. 
"At this point, we've been trying to relax, decompress, and take stock of the situation," Cameron told The Harvard Crimson in 2008. "With respect to any other projects, just keeping my eyes and ears open to see what might come along. Sometimes these things just fall into your lap." And just like fate, the fairly-unheard-of Bitcoin seemingly fell into the rowers' laps.
The Winklevoss twins are now Bitcoin billionaires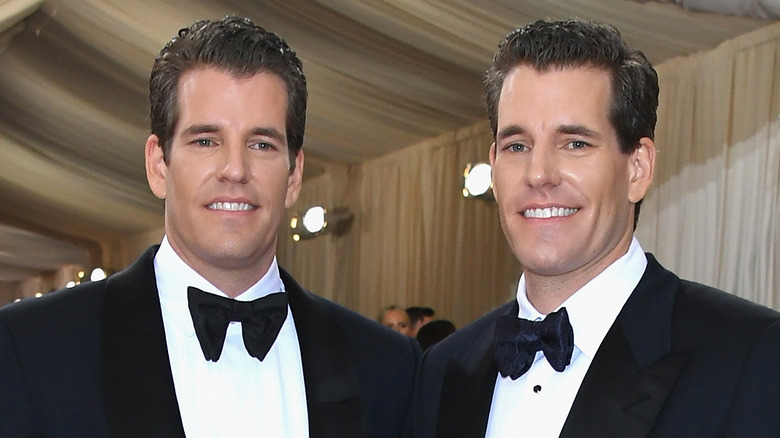 Some truly magical experiences can occur for people while on holiday — some discover romance or embrace a new tradition, others learn of a new idea that eventually makes them filthy rich. Well, that's what happened to Tyler and Cameron Winklevoss while traveling through Spain. The twins were staying on the party island of Ibiza in 2012 when the cryptocurrency Bitcoin came onto their radar.
"We were on vacation, not looking for the next big thing, but that's how it always works. It's very serendipitous. You don't predict when you're going to fall in love," Tyler told Forbes. Shortly after their return to the U.S., the Winklevoss twins invested $11 million into Bitcoin, when it sold for just $8, per Bloomberg. As of writing, a single Bitcoin would cost you $57,000, per Celebrity Net Worth.
While many people were skeptical of Bitcoin's value — Warren Buffet still calls is "rat poison" (per Business Insider) — the pair has always championed it. They founded successful cryptocurrency businesses Gemini and Block-Fi; have their own cryptocurrency, Gemini dollar; and were key speakers at the 2021 Bitcoin Conference, per news.com.au. Despite claiming to manage or own 1% of all Bitcoin in circulation and being worth $1 billion each, according to Bloomberg — the pair have "few luxuries." In 2017, The New York Times reported that "Cameron drives an old S.U.V,; Tyler doesn't have a car at all." 
Perhaps all they really wanted was some redemption and make their way into the tech world and judging by their billionaire status — they certainly have. 
Source: Read Full Article