What Paula Jones From My 600-Lb Life Looks Like Today
Fortunately, there are more success stories on "My 600-Lb Life" than tragic ones, though of course there are both. The show follows the weight loss journeys of super morbidly obese patients as they work with bariatric surgeon Dr. Younan Nowzaradan. Dr. Now's plan is strict, and it is very difficult for patients to change their lifestyles and lose weight. One of the show's success stories is Paula Jones.
When she appeared on her Season 2 episode in 2014, Paula weighed 542 pounds at only 33 years old. The mother of four endured a difficult childhood, explaining that she had been molested as a child (via Metro), and she blamed her mother for not protecting her. She had always turned to food for comfort and suffered health scares including a stroke and meningitis, per Metro. The real motivation came when she lost her husband to weight-related causes, and she feared that her children could become orphans if she didn't change her life.
Paula moved her family from Georgia to Texas to work with Dr. Now. She eventually lost 33 pounds through a liquid diet and qualified for bariatric surgery (per The Cinemaholic). Afterward, she worked with a personal trainer and a counselor to continue her journey. By her "Where Are They Now" episode in 2015, she had lost 273 pounds. But her journey was not over yet. Keep reading to see how Paula became one of the show's biggest success stories.
Paula Jones is one of the most successful stories on 'My 600-Lb Life'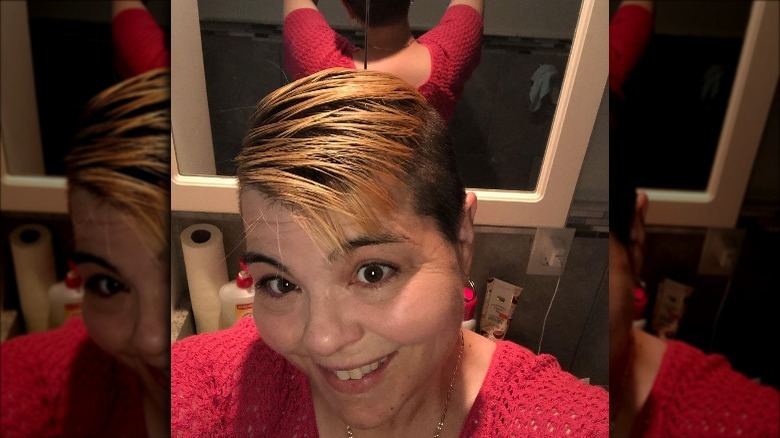 Paula Jones continued on her difficult weight loss journey after the surgery, and on her 2015 "My 600-Lb Life: Where Are They Now" episode, she weighed 269 pounds and qualified for skin removal surgery (per The Cinemaholic). In 2016, on her three-year "surgeversary," Paula posted an image on her social media saying, "From 600 lbs to 200 lbs," revealing her weight loss of 400 pounds. She had gotten down to 142 pounds and lost 73.8% of her previous weight, which gave her the fourth-highest weight loss on the series (via Starcasm)!
Paula continues to live a healthier life and now encourages others to do so as well. She was seen in one episode shopping with her daughter Savannah and teaching her about making better choices. She also promotes healthy lifestyles and has spoken at the Weight Loss Surgery Conference (via Starcasm), a gathering where surgery patients can share their stories. On her birthday, she shared a photo to her Instagram asking people to light a candle for those who lost their lives due to obesity complications, with the hashtag #paulaspurpose.
Paula has also married a new man who keeps his life very private, so there are no pictures of him to share. But he apparently doesn't like spicy food. She also announced the birth of her first grandchild in 2019 and is thrilled to be a grandma. Paula is continuing to live her best life and looks immensely happy.
Source: Read Full Article