Which 'The Young & the Restless' Co-Stars Got Married in Real Life?
There are many actors over the years who played characters that fell in and out of love on The Young & the Restless. But which stars actually dated in real life? Here are four couples that got married after working together on the show.
Chrishell Stause and Justin Hartley
Justin Hartley played Adam Newman from 2014 to 2016. Chrishell Stause played Bethany Bryant on the show in 2016. Hartley told People that Struase's Days of Our Lives castmate introduced them.
"We met up at a concert and talked all night," he said. "I drove her home and called the next day. We haven't been apart since. I knew right away [and] was like, 'Oh boy, here we go.'"
They then got married in 2017. But Hartley filed for divorce in 2019. He is currently starring in This Is Us and Stause's Netflix show, Selling Sunset was renewed for a second season.
Thad Luckinbill and Amelia Heinle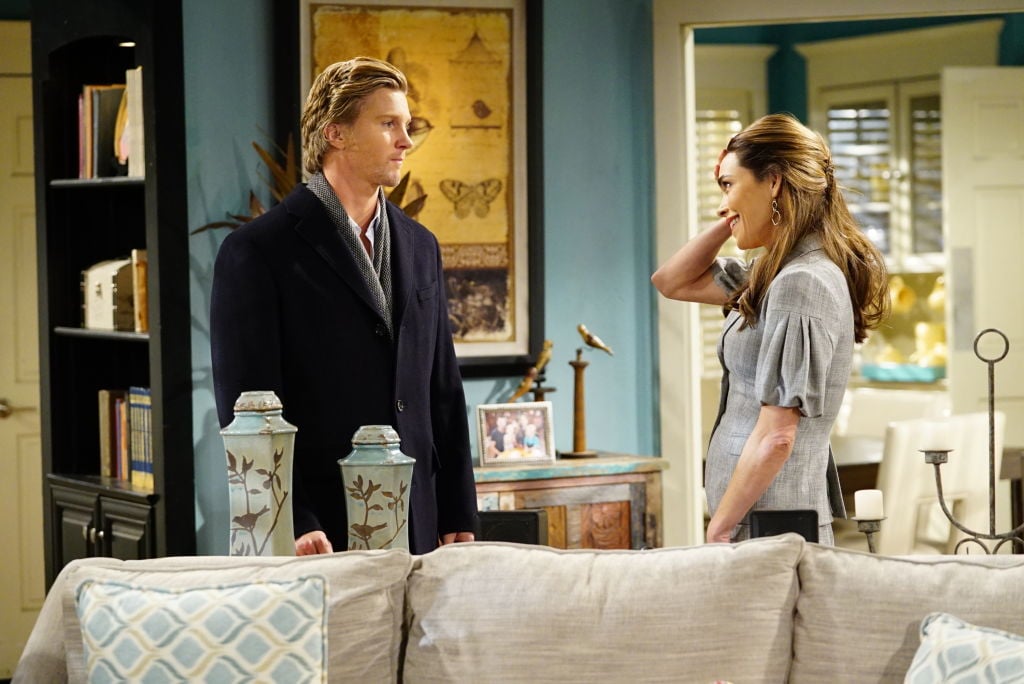 Thad Luckinbill played J.T. Hellstrom from 1999 to 2019. Amelia Heinle has played Victoria Newman since 2005. Their characters got married, had a son, then split up.
In real life, the actors also fell in love and got married in March 2007. They have two children named Thad Jr., and Georgia.
"We were friends first and I knew him from around here," Heinle told Michael Fairman TV. "We hung out a little bit and had a lot in common.  Sometimes, you know someone for a while, and you really don't know how much you have in common with them. Then one day, somebody says something and you go, 'Wait. That's how I feel, too. And then one thing led to another.'"
The married actors have had their troubles with Luckinbill filing for divorce in 2017. They've managed to stay together after that.
Eileen Davidson and Vince Van Patten
Eileen Davidson plays Ashley Abbott on the show and Vince Van Patten played Christian Page in 2000. The actors met on the set and they eventually got married in 2003. They have a son named Jesse.
The couple is still married to each other. Patten has moved on from The Young & Restless and appeared in the movie, 7 Days to Vegas with Davidson in 2019.
Their characters have a relationship that is similar to their real one. Patten plays a former actor who becomes a poker player. "They are in it together," Davidson told Michael Fairman Channel. "This is a lifestyle that they both enjoy.  That is what somebody does when there is a home game; you call people up, and make sure who is going to be there."
Doug Davidson and Cindy Fisher 
Doug Davidson has played Paul Williams since 1978. Cindy Fisher played Rebecca and Dana in the '80s. The actors fell in love then got married in 1984. They went on to have two kids named Calyssa and Caden. The couple is still married.
Fisher is no longer on the show. Her last role was in Murder, She Wrote and it ended in 1987. Davidson's long run on The Young & The Restless has continued into 2020.
Source: Read Full Article