Who Is the Banana on 'The Masked Singer' Season 3?
Please take a break from all the banana bread filling your Instagram feed (can everyone chill with the productive #SocialDistancing content, btw?) and turn your attention to another yellow creature: The banana on The Masked Singer, an esteemed member of the top three finalists in Group B.
With three performances and several clue packages available for consumption, fans are convinced they have peeled open the Banana and discovered the celeb lurking underneath the costume. But, like, have they REALLY? Let's examine the evidence.
The Clues
In the first clue package, the Banana wakes up hungover in a field after overdoing it the night before. The 'nana knows how to have a good time, as he insists "it's not my first rodeo" and "I'm a hoot to have at parties." There's also a cowboy hat, a blowfish, and a blue collar. The rodeo and cowboy hat and wild partying gives me major country rock star vibes but you should watch for yourself:
The second clue package is in an office where the Banana has a meeting about his image and how he "wants to rebrand." He mentions he's "still here after all these years" and that "rocking out is my authentic self." Other hints include cowboy boots, a TV show, Sons of Bananarchy, and three sets of numbers: 2 & 13, 6 & 8, and 9 & 15. I have no idea about the numbers, but I'm thinkin' the Banana is an older star trying to make his way back into the spotlight. Check it out:
Once again, the Banana hints at being around for a while, saying his "memory is not what it used to be" but he's a real "driven" banana. (Huh??) Then two ladies (presumably his daughters?) testify that the Banana has been a great role model, teaching them how to drive with go-carts and building them a racetrack in the backyard.
The Performances
The Banana paid tribute to the King of Rock and Roll in his first performance with "A Little Less Conversation," by Elvis Presley. He was movin' and groovin' with some nice, smooth vocals. Definitely an experienced performer who is comfortable onstage. Take a look:
For his second performance, the Banana chose another classic song, the country rock anthem "Achy Breaky Heart" by Billy Rae Cyrus. There were lots of cowboy hats in the audience and the Banana even did the two-step.
For his third and final song, the Banana took us to church and gave a touching performance of "Lean on Me," by Bill Withers. Judge Jenny McCarthy praised the Banana for delivering every week and getting the audience on their feet. As for song choice, the Banana shared that his father, who recently passed away, had loved this Bill Withers classic. Watch the emotional rendition:
The Guesses
Bret Michaels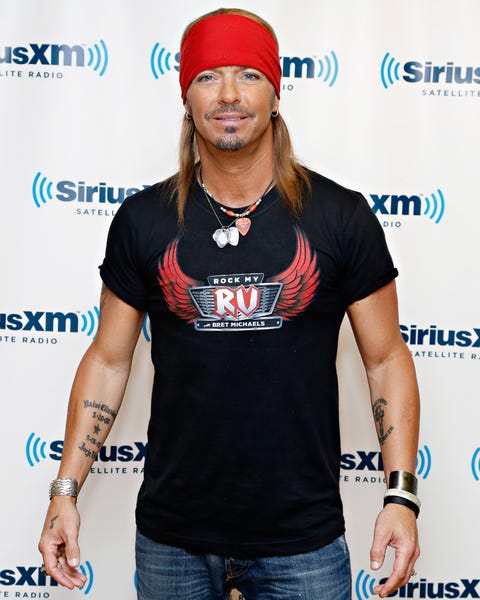 Fans are one hundred percent convinced that Bret Michaels, the lead singer of rock band Poison, is hiding inside that Banana, and TBH, the facts check out:
If you need further convincing, a ton of fans recognized Bret's voice and dance moves too:
Bret has a race track in his back yard and that's his voice BANANA IS BRET MICHAELS 💯💯💯#TheMaskedSinger
The Banana is Bret Michaels…. 1. He has a track in his back yard.. heres the articlehttps://t.co/HgpAFzRRLW
2. The "Blue Collar" he had a pet line in petsmar
3.His father passed in August
4.cowboy hat he always has a cowboy hat on.#BananaMask#TheMaskedSinger @JennyMcCarthy
My guess for the banana… Bret Michaels #TheMaskedSinger pic.twitter.com/Z2aVuSVuKF
Cool, I'm fully convinced Bret Michaels is the Banana. Now I'm going to eat some banana Bret bread.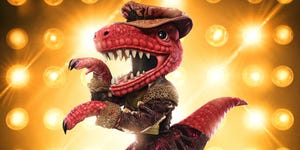 Source: Read Full Article