Will 'Below Deck Sailing Yacht' Score a Reunion?
Bravo producer Andy Cohen hinted of a Below Deck Sailing Yacht reunion when he asked Facebook followers to send him questions for the cast.
Cohen shared, "Calling all Below Deck Sailing Yacht fans! If there were a reunion, what would you want to ask Captain Glenn, Jenna, Adam, Paget, Ciara, Georgia, Madison, Parker and Chris? Post your Qs for them NOW!"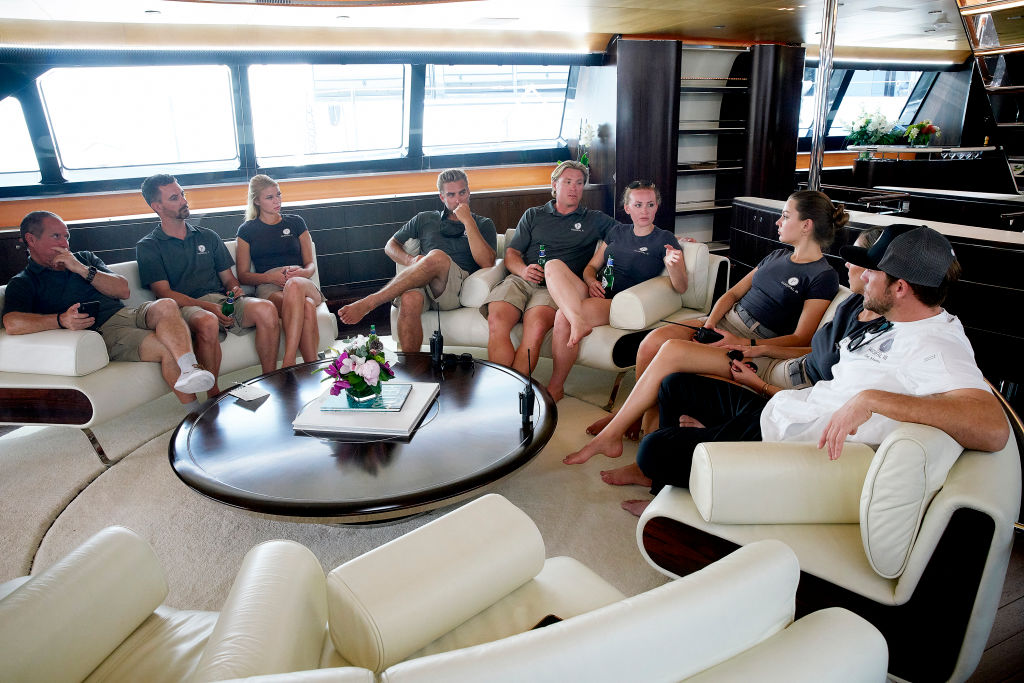 Close to 430 people commented so the demand may push for the cast to have a reunion. Plus ratings continue to climb and have held steady, especially after the crew change from deckhand Parker McCown to Chris Miller. While there's no guarantee, fans appear to be here for a reunion, whether it's in-person or virtual.
The season has unanswered questions
Fans flooded the Facebook request with questions about a number of crew members' relationships. Jenna MacGillivray and Adam Glick had the most dramatic relationship on the boat. They seemed to be either hot or cold, often getting into fights followed by endless snuggling and hugging. Glick confirmed though on Watch What Happened Live with Andy Cohen that he and MacGillivray aren't together.
But he added that they still spend time together.  "Any time you go through sort of a tense situation with anyone, particularly a significant other there's a level of connection that's never going to go away," he explained. "We were just speaking to each other earlier today. We've gone through something incredibly powerful together. We could both be married in 20 years and we'd probably still want to talk to each other about what we went through."
Fans also wanted to know if Ciara Duggan and Paget Berry were still a couple. Plus, viewers wanted more insight into the crew dynamics.
Cohen got slammed for the last 'Below Deck' reunion
Below Deck season 7 was messier and darker than Below Deck Sailing Yacht. Cameras captured misogynistic behavior and a near physical attack, which set Cohen up for a serious challenge when it came time for the Below Deck reunion. Fans hoped Cohen would drag the men on the boat. But many viewers ended up being disappointed with the reunion, sharing on social media that Cohen went too soft on the men.
Cohen addressed the backlash on his Sirius XM radio show, where he was met with more callers who were supportive of how he handled it.
"Everyone kind of behaved like a**holes at one point or another. And the point of the reunion is for both sides to say what they have to say," Cohen said about how he handled the reunion. "And I want to say that at the reunion, which is the time for both sides to say what they have to say."
Reunions have gone virtual
Cohen has filmed three series reunions since the pandemic struck in March. He initially resisted, likely hoping the lockdown would lift. But when it appeared that productions would have to pause for months, he moved forward, filming The Real Housewives of Atlanta via video conferencing.
Cohen recently offered his thoughts about virtual versus in-person reunions. "Both are stressful," he responded to an Instagram story Q&A. "I definitely prefer in person but I can't wait for y'all to see #RHOA starting on Sunday. The ladies deliver."
After the RHOA reunion filmed, Cohen shared that the reunion was going to be strong.  "It was as epic as every Atlanta reunion has been," he said in an Instagram story. "Here are my cards, putting them in the garbage." Cohen also joked about not wearing pants to the reunion. "I'm going to get some tequila and turning out the lights. And I will have you know, I am not wearing pants." 
Source: Read Full Article