Crowds Remember Breonna Taylor 1 Year After Her Death, a Reminder She Still Deserves Justice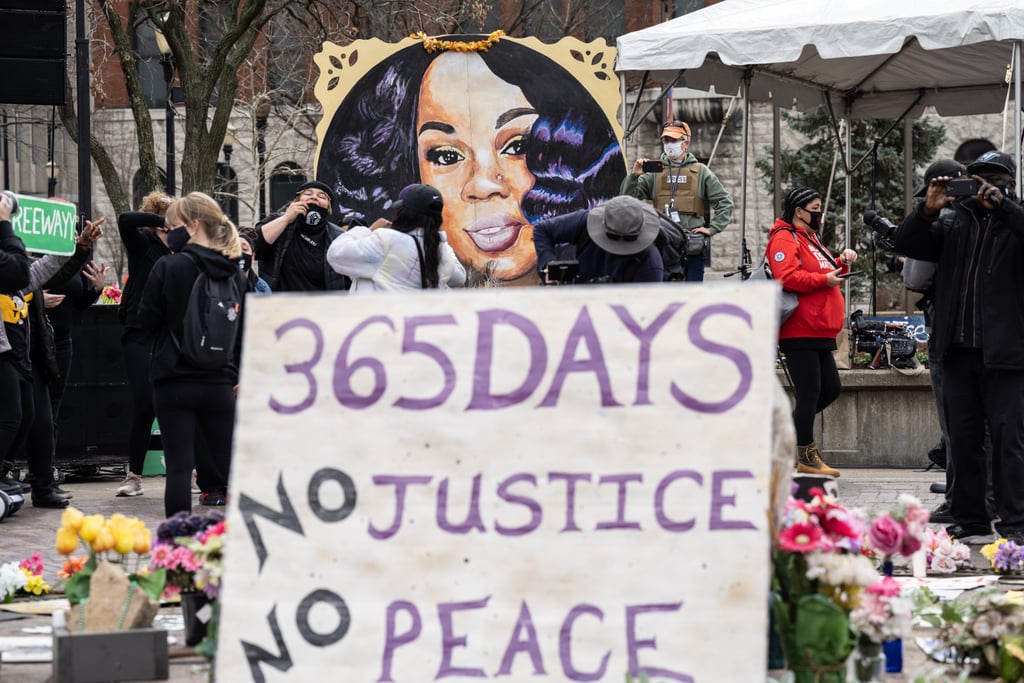 Crowds Remember Breonna Taylor 1 Year After Her Death, a Reminder She Still Deserves Justice

On March 13, demonstrators gathered in Louisville, KY to mourn the loss and remember the life of Breonna Taylor. The 26-year-old EMT was killed by police exactly a year before, and in the ensuing months, her loved ones have continued to fight for her justice. Taylor's name became synonymous with the Black Lives Matter movement as another tragic example of police violence against the Black community. Three-hundred-and-sixty-five days and a series of disappointments later, there's clearly still work to be done.
Taylor was asleep on March 13, 2020, when police officers Brett Hankison, Jonathan Mattingly, and Myles Cosgrove forcibly entered her home to execute an unannounced drug raid using a no-knock warrant, despite their main suspect already being in custody. Her boyfriend, Kenneth Walker, allegedly sent a warning shot when Taylor's door was hit with a battering ram. The officers, in turn, fired over 20 bullets into the home, eight of which hit Taylor.
Taylor's family is adamant that justice will not be fulfilled until the officers involved in her death are "fired, arrested, charged, and convicted" but in September, Mattingly and Cosgrove were cleared of any criminal charges. Hankinson was indicted on just three counts of wanton endangerment in the first degree, a Class D felony. Attorney General Daniel Cameron has been highly criticized for his handling of Taylor's case and was later accused by grand jury members of misrepresenting their findings. They petitioned for his impeachment.
Tamika Palmer, Taylor's mother, wants to see the case presented to another grand jury, preferably reaching the Justice Department and newly-confirmed attorney general Merrick Garland. She recently filed a complaint against six officers who played a role in the raid. Palmer grieves what was taken from her daughter, and even as no-knock bans are passed in her name, it doesn't change the fact that her life was cut short. Palmer finds small amounts of comfort in seeing the impact Taylor has left behind, as evidenced by the demonstrations on Saturday. "Breonna would've definitely done good things," Palmer told The 19th. "I hate that her face has to be the face of this, but then I try and take comfort in: 'Who could have done it better than her?"
Source: Read Full Article