One year in office: Biden defends stalled agenda, renews threats to Putin
Washington: US President Joe Biden has predicted that Russia would make a move on Ukraine to "test the West" but warned that a full-blown invasion would spark a devastating response for President Vladimir Putin and his country.
In a press conference to mark his first year in office – Biden's first solo one in months – the President also acknowledged that he should have done more to address coronavirus, vowed to tackle rising prices in America, and would spend more time out of Washington seeking advice and speaking to voters.
Joe Biden: "Putin is trying to find his place in the world between China and the West."Credit:AP
But the embattled Democrat also defended his stalled agenda, saying that he underestimated the extent to which Congress would thwart some of his biggest election promises.
"I did not anticipate that there would be such a stalwart effort to make sure President Biden didn't get things done," he said, moments before Senate Republicans and rebel Democrats were due to vote down yet another one of his commitments: voting rights reform.
The two-hour press conference came at a critical juncture for Biden whose approval rating has been falling since the middle of last year, coinciding with the botched withdrawal of troops from Afghanistan and COVID-19 ravaging the country.
The withdrawal of US troops from Afghanistan evoked memories of the fall of Saigon.
As Democrats head towards the midterm elections in November, a Gallup poll released on the eve of Biden's anniversary showed that just 40 per cent of Americans now approve of his presidency while 56 per cent disapprove.
Biden – who came to office promising to get coronavirus and the economy under control – rejected suggestions that he had overpromised, but noted the pandemic had left Americans exhausted and had made it harder for his administration to achieve its goals.
"After almost two years of physical, emotional and psychological impact of this pandemic, for many of us, it's been too much to bear," he said. "Some people may call what's happening now 'the new normal'. I call it a job not yet finished. It will get better."
He addressed the looming crisis in Europe, amid growing fears that Russia – which has deployed thousands of troops to the Ukraine borders – was planning a military strike against the former soviet nation.
After weeks of diplomatic talks between Russia and the US, Biden said he didn't think Putin had made a final decision on whether to invade, noting that his counterpart was "trying to find his place in the world between China and the West."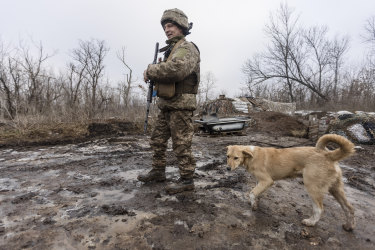 A Ukrainian soldier walks along a line of separation from pro-Russian rebels in Ukraine's Donetsk region this month.Credit:AP
Nonetheless, there would be "devastating" consequences if Russia did strike, Biden said, and suggested the West could limit Russia's access to the international banking system along with other tough economic sanctions.
"Russia will be held accountable if it invades – and it depends on what it does. It's one thing if it's a minor incursion and we end up having to fight about what to do," the President said, later clarifying that there were "differences" among the NATO allies on how to respond to a minor incursion.
"But if they actually do what they're capable of doing … it is going to be a disaster for Russia.
"I'm not so sure that he is certain what is he going to do. My guess is he will move in."
The question-and-answer format of news conference on Thursday (AEDT) is a rarity for Biden, who has done fewer solo media appearances than any other US president in modern history.
However after a difficult few months of setbacks, he acknowledged he needed to do more to sell his agenda.
This will be particularly critical in the lead up to the midterm elections, where the Democrats are widely tipped to lose their slim majority in Congress, and with his predecessor Donald Trump hinting another run for the White House in 2024.
"This is maybe the most important election we've ever had – but I do believe that 2024 will be even more important," Trump said at a rally in Arizona last weekend. "This is the year we are going to take back the White House."
On the economy, Biden said it was the Federal Reserve's job to rein in the fastest pace of inflation in decades, endorsing the central bank's plans to scale back monetary stimulus.
In relation to COVID, he said that 75 per cent of adults were now fully vaccinated and millions of lives had been saved. However, he accepted that more needed to be done, telling reporters: "Should we have done more testing earlier? Yes. But we're doing more now. We've gone from zero at home tests a year ago to 375 million tests on the market just this month," he said.
And on voting rights, he vowed to continue the fight and hold Republicans to account for their role in blocking reform.
Suggesting that Trump's ongoing influence on the Republican Party was pushing it to derail his agenda he said: "Did you ever think that one man out of office could intimidate an entire party where they're unwilling to take any vote contrary to what he thinks?"
The 79-year-old looked bemused when asked about his mental acuity by James Rosen from the conservative cable channel Newsmax, who cited a Morning Consult Poll in which 49 per cent of registered voters disagreed with the statement: "Joe Biden is mentally fit".
"I'll let you all make the judgement if that's correct," Biden said.
Get a note directly from our foreign correspondents on what's making headlines around the world. Sign up for the weekly What in the World newsletter here.
Most Viewed in World
From our partners
Source: Read Full Article