Prince Philip made plans for his own funeral, and wanted no 'fuss'
London: Prince Philip, a man who knew what he liked and didn't and wasn't afraid to say it, made his views about Operation Forth Bridge – the codename for his funeral plans – crystal clear many years ago. The Duke of Edinburgh's instructions were simple: minimal fuss.
So it was not surprising to learn after his death at Windsor Castle on Friday morning, local time, that the Queen's husband of 73 years will not have a state funeral and won't lay-in-state at Westminster Abbey before his likely funeral next Saturday.
A mourner's dog smells flowers laid outside the gates of Buckingham Palace.Credit:Getty
The coronavirus pandemic might have made that pomp and ceremony impossible had he even wanted it. Restrictions in England cap funerals at 30 guests and large crowds are not meant to gather even outdoors, posing a dilemma for the British government and the royal family over how to accommodate a public outpouring of grief in a way that does not break the rules.
A steady stream of mourners started filing past Buckingham Palace straight after the Press Agency announced the 99-year-old's death at midday. A framed notice was hung on the iron gates but was taken down shortly after so it did not act as a drawcard for crowds.
Most people arrived wearing a mask, placed flowers on the ground, said a few quiet words and moved on. One hand-written sign conveyed what most there were thinking: 'Thank you Philip'.
"We wanted to come here and be respectful and leave some flowers in his memory. This is going to be very hard for the Queen and for the country," one mourner, Maria Rayon, explained.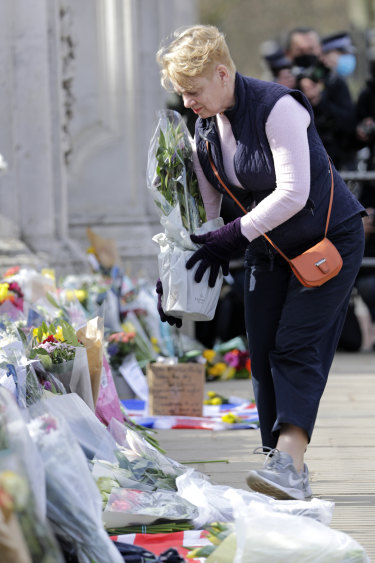 A member of the public leaves a floral tribute.Credit:Getty
"This is very important for the country. We are living history right now. But more than that it is a human life we are losing today and we should be respectful about that and give him the respect he deserves.
"He was very loyal to the Queen. They have been married such a long time and it's remarkable how loyal he has been to his Queen. He's also the father of the next king."
Lauren Plant took her children Sophia and Leo to the palace after learning of Philip's death via a text message from her mother. Plant also placed flowers outside Kensington Palace following the death of Princess Diana in 1997.
"It was pretty upsetting," she said. "He was going to be 100 soon and with what the royal family have been through lately, it's just sad.
"People liked his character. And they liked that he has supported the Queen. It would be sad if there can't be a big, fitting public funeral but people would also understand."
A child lays flowers outside Windsor Castle, where Prince Philip died.Credit:AP
Operation Forth Bridge, Philip's funeral plan, was designed largely on the basis he would die in London. Contingency plans were drawn up last year given he and the Queen had relocated to Windsor Castle.
Buckingham Palace said the plans were still under review: "During the coronavirus pandemic, and in light of current government advice and social distancing guidelines, modified funeral and ceremonial arrangements for His Royal Highness the Duke of Edinburgh are being considered by Her Majesty the Queen. Details will be confirmed in due course."
The College of Arms, which is responsible for state ceremonies, had earlier issued guidance on what might be expected but the information was later deleted.
It said the funeral will not be a state funeral and the consort's body will lie at rest in Windsor Castle ahead of the funeral in St George's Chapel in Windsor.
"This is in line with custom and with His Royal Highness's wishes," their statement said.
The funeral will likely be held on Saturday, April 17.
Gun salutes will be fired around the United Kingdom this Saturday.
At London's Woolwich Barracks, the guns will be the same ones that fired for Philip's wedding to the then-Princess Elizabeth in 1947 and the Queen's coronation in 1953.
A tribute is projected onto a large screen at Piccadilly Circus in London.Credit:AP
Most Viewed in World
From our partners
Source: Read Full Article